Exclusive: Michelle Buteau Does Not Want Her Husband To Propose Again Unless 'The Bills Are Paid And House Is Clean'
The 'Marry Me' star tells BET.com in an exclusive interview.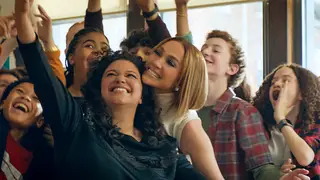 If Jennifer Lopez proposes to you on stage, who is denying that? Although, we have a feeling Ben Affleck isn't going for any of that (haha).
In the fictional universe, you can see 'Jenny From The Block' in her new film Marry Me, with Lopez starring as musical superstar Kat Valdez and Owen Wilson as Charlie Gilbert, a math teacher—total strangers who agree to marry and then get to know each other. An unlikely romance about two different people searching for something real in a world where folks base relationships on social media perception.
The movie also stars Michelle Buteau (First Wives Club), who shares if her husband were to pull the same stunt as JLO's character in the film, the essential hubby duties better be completed before putting on a show.
"If I have to answer honestly, the house better be clean, the laundry better be folded, and them bills better be paid before you come to me with some sh*t," she expressed. "We still have stuff to do, and your love language changes in the pandemic. Before the pandemic, it was acts of service - help me do this and that - but now all we do is acts of service. Now it's gift-giving. Give me something expensive so I can wear it from the kitchen to the dining room."
Now Valentine's Day is near, so of course, she had to let BET Lifestyle know what gift her hubby could possibly buy her.
"You know, the husband and I have a mid-century furniture store located in Bushwick, so we believe in understanding the value of what you have," she explained. "If he's going to buy me anything, it has to be vintage as I'm anti-diamond because I'm not sure where those diamonds come from, and I want to protect the children in Africa. I would like a vintage piece of jewelry by a Black jeweler. It's Valentine's Day but also Black history month, so be nice to me especially having a white husband. Be an ally. If it's not vintage jewelry, then it should be a vintage car."
Okay! I know that's right, Michelle.
Now for the lovers who may be tying the knot this weekend, we all know everyone wants to have the 'perfect dress' to sashay down the aisle to meet the person of their dreams. In the film, Lopez dons a gorgeous, bedazzled wedding dress which Buteau lets us know, in her opinion, is the perfect wedding gown.
"It's definitely based on your personal style - anything should be elevated," the comedian explained. "You shouldn't go for what you think you should do - throw that mindset out the window. Put on some WAP [by Cardi B], drink some tequila, your grandmother maybe there -people are taking pictures of you from every angle, so you want to make sure it looks good."
The author also said give us a moment and switch it up with some outfit changes. "I'm a big fan of costume changes, too, because this is our moment," she said. "We mind as well do it up for our wedding, but if you want that, though." 
When it comes to love at first sight, the actress is definitely for it as she had a one-night stand with her husband, whom she mothered two beautiful children with. "I do believe in it - I don't know if it's love or lust, but you have to figure it out," she began. "I met my husband on a one-night stand, so I always say open your mind, heart, and your legs to love b*tch. I actually put that on a magnet and will be selling one, so I'll send one over to you, too."  
Buteau stays booked and busy. In addition to the film releasing on February 11th, she also landed a new series deal with Netflix for her novel, Survival Of The Thickest. The decorated actress is also filming season three of First Wives Club on BET+ and giving a sneak peek of what's to come.
"Noooo b*tch, now come on," she laughs. "There's a lot of twists and turns - surprises - you think we'll go right, but it goes left from the beginning. First Wives Club is about friendships, and one of those friendships may be breaking up, so we shall see or put it to the test. But also, we still have the body positivity and the sex."
As far as Survival Of The Thickest, she wants to represent curvy and thicker women by being very "honest," which she hopes will spark difficult conversations.
"Much like 'First Wives Club,' this show isn't going to be a woe in my situation. We're going to go where we're celebrated, not tolerated. It will be the difficult conversations that people may have with their mom who tells them if they lost weight, they would be married to men who say they're pretty and not being attracted to someone of plus size - all things that have been said to me before." She continued, saying like any comedian, she wants to find "humor through pain."
We're excited to see how this show plays out, as it doesn't have a premiere date just yet.
In the meantime, grab your loved ones this Valentine's Day weekend and set out to see Marry Me in theaters on February 11th.
Ty Cole is a New York-based entertainment reporter and writer for BET.com who covers pop culture, music, and lifestyle. Follow his latest musings on Twitter @IamTyCole.