2022 NAACP Image Awards: Who is Alayah 'Lay Lay' High?: 5 Reasons Why We Love This Year's 'Outstanding Performance by a Youth' Nominee
The young star became a viral sensation following an impressive car-ride freestyle.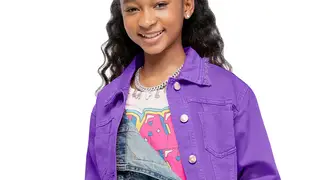 15-year-old Alaya High, better known by her stage name 'That Girl Lay Lay', has been taking the internet by storm since going viral several years thanks to an impressive freestyle performance. Since then, the burgeoning mega star landed herself several major opportunities, including a historic record deal, television deals, and more.
Lay Lay's outstanding performance in the entertainment industry earned her a nomination for  "Outstanding Performance by a Youth" at the 53rd Annual NAACP Image Awards. The rapper is up against some of the most talented kids in the business, but her resume speaks for itself. However, before we can tune in for a night dedicated to honoring some of Hollywood's most outstanding performances in film, television, theater, music, and literature. Here are five reasons why we love this year's nominee.
She's a trailblazer

That Girl Lay Lay began rapping at 4-years-old and recorded her first single a year later. She has become the youngest female emcee to sign with a major record label. The historic moment came in August 2018, when, at just 11-year-olds, Lay Lay signed a music deal with Empire.

She's fearless

Lay Lay's dad is Acie High of rap duo Aqualeo. The young star would often accompany her musical father to the studio–sometimes for hours–where she would study him. One day the 11-year-old convinced her dad to record her while freestyling in the car. Acie High uploaded the clip, and it became viral, catapulting Lay Lay into stardom.

She's collaborated with some of our favorites

Lay Lay may be petite in size, but her skills have attracted several collaborations with some of the industry's biggest acts, including rapper Young Dolph, Lil Duval, Bun B., and more.

She's one more reason to love Houston, TX

Houston, TX strikes again, producing another fiery act. The southern city birthed several superstars, including Hot Girl captain Megan Thee Stallion, Bun B, and the late Pimp C.

She's been vetted by some Hollywood directors

In a statement with the Preview producer Will Packer described the young entertainer as "a multitalented force of nature destined for mega-stardom." Lay Lay has already obtained several monumental achievements in a short period. It'll be awesome to see where she goes next.

Watch the NAACP Image Awards on Saturday, February 26, 2022, at 8/9c.