7 Must-See Shows And Movies On BET+
We have the best picks for your quarantine and chill.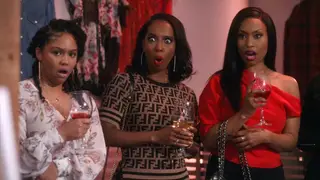 In 2020, it seems that there are more choices than ever for at-home entertainment and BET+ has the most diverse line-up of any streaming service. From romantic comedies to gripping thrillers, the marathon binger can go for the gold medal in distance watching.
So, grab your snacks and your favorite cuddle buddy. Here are some of our favorite show picks currently available on BET+.
BIGGER

Created By: Felischa Marye

Starring: Tanisha Long, Angell Conwell, Tristen J. Winger

Set in the East Atlanta neighborhood of Little Five Points, the series follows a single Black woman named Layne Roberts (Tanisha Long) whose biggest life issue is dealing with the threat of marriage to a fiance who is boring-in-bed. However, the sudden, random death of a college acquaintance is the life-altering tragedy that drives her ambitious group of friends to take a deeper look at their stagnant lives, asking themselves: Is there something bigger and better for us all out there? 

First Wives Club

Starring: Ryan Michelle Bathe, Jill Scott, Michelle Buteau

Reminiscent of the original 1990s film of the same name, the series, set in New York City, follows three Black women who come together after their marriages fall apart. They find solace in one another and seek a bit of revenge against their exes.

Hazel (Jill Scott) is an aging R&B singer fighting against the notions from the industry and her producer husband (played by Malik Yoba) that she's past her prime. Bree (Michelle Buteau) and Ari (Ryan Michelle Bathe), her best friends from college, come to her aid when her marriage falls apart, and their journey together solidifies their enduring sisterhood.

RUTHLESS

Starring: Melissa L. Williams, Jaime Callica, Blue Kimble

Ruthless, a spin-off of Tyler Perry's The Oval, is the story of a young woman named Ruth and her entanglement in a religious cult of powerful, sex-crazed fanatics. Ruth realizes she must play along with the group until she can find a way to free herself and her daughter, Callie, from the dire situation they now face.

HOliday heist

Directed by: Roger M. Bobb

Starring: Chaley Rose, Tobias Truvillion, Phillip Edward Van Lear

A reformed jewel thief named Devin (Tobias Truvillion) cons his way into a job as a sales clerk at a family-owned jewelry store, but when the owner's daughter, Jade (Chaley Rose) steals his heart, he must choose between love or money.

Miss Virginia

Directed by: R.J. Daniel Hanna

Starring: Uzo Aduba, Niles Fitch, Vanessa Williams, Amirah Vann

In 1996, Virginia Walden Ford was trying to do an ordinary thing against extraordinary odds. The single mother of a teenage son worked tirelessly to guide him away from the temptations of easy drug money on the streets and focus on his education, but the D.C. public school system was failing them both. After enrolling him in private school, Ford realized, like many working-class families, the financial challenges of keeping him there, and questions why Black parents have so little recourse when it came to their children's futures. 

Walden Ford's subsequent fight for school choice and the passage of the nation's first-ever Opportunity Scholarship Program in 2003 is documented in the film Miss Virginia, starring Emmy winner Uzo Aduba in the titular role.

Swag Inc

Directed By: Chris Stokes

Starring: Tiesheko Houston, Carnetta Jones, Masika Kalysha

Two best friends, David and AJ are experts in dating and find themselves knee deep in an unique opportunity to cash in on their "Swag." David is a waiter at a hi-end country club and AJ works in the mail room at a startup tech company. These dudes are players who got game, but no dough. So they decide to create an app to school other men on how to get the ladies. Will this opportunity finally give them the lifestyle they've always wanted, and the two girls they've never been able to land, or will they be broke and single for life?

ANGRILY EVER AFTER

Directed By: Terri J. Vaughn

Starring: Jasmine Burke, T'Rhonda Jones, Tyrone Marshall Brown

Tia Logan (Jasmine Burke) is a woman who has it all! She has the morning anchor position of WBX DC. She is a week away from marrying DC's most eligible bachelor and transforming their beautiful house into a happy home. She is every man's dream and every woman's goal. Days before her wedding, while Tia is at her final dress fitting, she sees her man walking across the street locked up with his ex. All hell breaks loose and inside of 24 hours, Tia loses her fiancé, home and job. How will she recover? Will she find her happy ending or are fairy tales, like tricks, just for kids?