Burna Boy, The Roots, Lucky Daye Announced to Perform at AfroPunk Brooklyn 2022
The festival is set to take place on September 10th and 11th.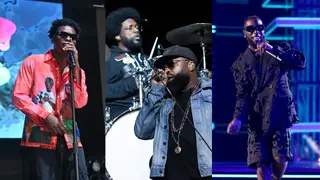 Afropunk Brooklyn is back and the lineup is stacked with some amazing performances so you might want to get your tickets as soon as possible.
The lineup was announced earlier today (June 14th) and it includes Lucky Daye, The Roots, Tierra Whack, Burna Boy, Freddie Gibbs, Isaiah Rashad, Earl Sweatshirt, Alex Mali, and many other artists who are going to rock the stage at the Commodore Barry Park.
The Afropunk franchise continues to expand as it's heading to Minneapolis this weekend (June 18th and 19th), which marks the first-ever live event in the Midwest at the Sheridan Memorial Park. Branded as Planet AFROPUNK Live: Minneapolis, the lineup will include Ari Lennox, Noname, and Mereba just to name a few performers who will make an appearance on both days.
In addition to awesome performances, the festival will also feature activations including the Spinthrift Market and AFROPUNK's Bites 'n Beats, which provides event-goers an opportunity to indulge in cuisines from renowned Midwestern chefs and local food trucks. Attendees also have the chance to experience a live mural, early morning Yoga sessions, art galleries, and film screenings.
Looks like Juneteenth weekend is about to be vibe!
If you couldn't snag tickets for Planet Afropunk Live: Minneapolis, presale tickets for Afropunk Brooklyn go on sale Thursday, June 16th at 10:00 a.m. ET while general tickets go on sale Friday, June 17th at 10:00 a.m. ET.