Monica Vows To Help Ex C-Murder Win Early Prison Release
She took to her Instagram to explain the situation.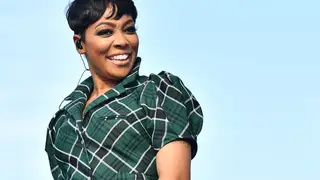 Back in the day, Monica and C-Murder were romantically involved, and now, it seems that the R&B singer still very much cares about the No Limit rapper.
On Monday (August 10), Monica took to her Instagram Story to reveal how she's going to do her best to help C win an early release from prison.
"You are not alone," Monica wrote along with a photo of him. "The fight is about to change because you will not fight alone! Your daughter and Tru family deserve to have you with them! I'm about to be on some other sh*t @cmurder."
In 2009, C-Murder, real name Corey Miller, was convicted of second-degree murder for the fatal shooting of 16-year-old Steven Thomas outside of a Louisiana nightclub.
The incident happened in 2002, and although several witnesses have recanted their stories, Murder has been denied another trial after multiple times.
C-Murder's case has recently received renewed interest due to the No Limit Chronicles, which aired its latest episode of the series on Wednesday (August 12).
C-Murder was sentenced to life in prison at the Louisiana State Penitentiary. In January 2019, Judge Steven Enright of 24th Judicial District Court decided the two witnesses who recanted their testimonies weren't credible and denyed C-Murder another trial.
It's unclear what Monica is going to do to help her ex win an early release from prison.