Bad to Worse: Khloé and Lamar's Relationship Just Hit a New Low
This has us very worried for the former NBA player.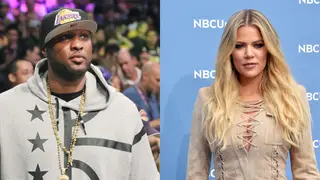 Despite earlier reports, things are not going well in the divorce of Khloé Kardashian and Lamar Odom. 
The estranged couple decided to move forward with their split, at Khloé's request, just a few weeks ago after the reality star had successfully seen her husband through his rehabilitation following a near-death overdose last year. But, it turns out, Lamar isn't ready to let go, and may be resorting to "desperate behavior" to keep his former wife.
It's gotten so bad, RadarOnline.com reports, that Khloé is considering a restraining order against the former NBA player.
"He's totally lost it, calling her every name under the sun and yelling at her for breaking promises she made to him on his death bed," an insider told RadarOnline.com.
"It's pretty vicious," continued the source, adding that Odom "has been bombarding her with bitter texts and drunken rambling messages that are starting to scare her."
The situation has gotten so bad that Khloé is even considering taking legal action against him. "She's now considering a restraining order against him because he's been threatening all kinds of crazy things, from spilling all her secrets to hoping she drops dead," revealed the insider.
Sadly, Odom has reportedly started using drugs and alcohol again in recent weeks, so if these reports are true, it looks like he may be headed down a very bad path. We hope it's not, though, considering the incredible progress he's made over the past six months to regain his health.
Get the details on Khloé's most recent divorce filing with BET Breaks, above.