Eddie Long's Accusers Speak Out on His Death
Four men claim they were sexually abused by the pastor.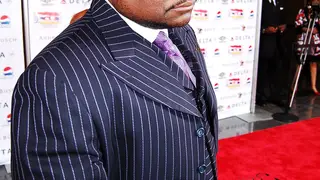 Bishop Eddie Long passed away over the weekend, with the sad news being confirmed yesterday (Jan. 15) by the New Birth Missionary Baptist Church. The longtime pastor had been privately battling an aggressive form of cancer and was 63 at the time of his death.
Back in 2010, four men, Anthony Flagg, Maurice Robinson, Jamal Parris and Spencer LeGrande, came forward, ​each ​claiming that the pastor coerced​ them ​into having sexual relationships with him. The suit filing claimed that Long engaged with each of the young men in sexual acts, such as massages, masturbation and oral sex, with an undisclosed financial settlement reportedly ​being ​reached a year later.
The four accusers shared a statement following the passing of Long, announcing that they are writing a book titled Foursaken, ​which is where they will​ formally be ​address​ing​ their ​various reactions and feelings in depth.
"As much as we'd like to make a statement about the passing of Bishop Eddie Long, we've all decided to remain silent, for now," the group's statement reads. "We're all brothers in this. Our perspectives will be addressed in our book, Foursaken, which we hope to release soon."
According to the report, the co-authors are still looking for a publisher. The book is said to focus on their lives after they parted ways with the controversial preacher.