'Insecure': Yvonne Orji Reveals Conflicting Emotions About Final Season
The final season of the show premieres on Oct. 25 on HBO Max.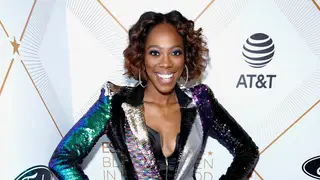 The final season of Insecure debuts on Sunday (Oct. 25) on HBO Max. Fans and the cast are both conflicted by emotions of joy and sadness as the show returns along with the realization that this groundbreaking journey is coming to end. This includes actress Yvonne Orji, who plays Molly Carter on the show. 
Created by Issa Rae who plays Issa Dee on the hit series, the comedy-drama is based on Rae's YouTube series Awkward Black Girl and follows several blundering life experiences commonly found in the life of a modern Black woman. 
Orji made an appearance at the Elle Women in Hollywood event on Tuesday night (Oct. 19) and spoke to The Hollywood Reporter about what being a part of the cast has meant to her over the last five years, hinting that recent group text messages with her castmates have been off-the-chain.
"I bawled my eyes out saying goodbye to this character that launched my career in a really beautiful way," Orji explained. "And I said goodbye to my friends who were like family on that show. It was not make-believe. We weren't like, 'Oh, action!' and then just putting something on. We really were like a family and when the director yelled cut, we still wanted more of each other."
She continued: "We've never seen Black characters portrayed like this and also, the city of South L.A. as a character was portrayed so beautifully. I will do other projects and hopefully, this is just the beginning but I know that nothing will compare to this." 
The actress has multiple projects in the works, starting with hosting a new HBO franchise, a reality dating series called My Mom, Your Dad. She will also host the second installment of Amazon Prime's comedy special Yearly Departed, according to Deadline.