Supreme Court Rules Against Biden's Student Loan Forgiveness Program
The decision is a setback for the president's promise to ease the student debt crisis that disproportionately impacts Black borrowers.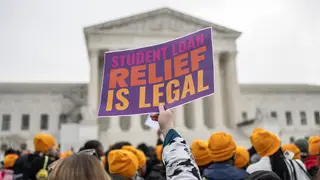 In a blow to the Biden administration and scores of people with federal student debt, the U.S. Supreme Court struck down the president's student loan forgiveness plan on Friday (June 30), CBS News reports.
Announced last August, President Biden's plan would have canceled up to $20,000 of debt for approximately 40 million people, including Black borrowers who are burdened with a disproportionate amount of federal student debt. The president promised during his 2020 campaign to forgive at least $10,000 of federal student loan debt if elected.
Biden has vowed to find another way to tackle the student debt crisis. "While we strongly disagree with the court, we prepared for this scenario. The president will have more to say today," a White House official who spoke on the condition of anonymity said, USA Today reported.
In a 6-3 decision, which comes a day after the court struck down affirmative action in education, the high court's conservative majority ruled that the plan violates federal law.  Six conservative states — Arkansas, Iowa, Kansas, Missouri, Nebraska and South Carolina — challenged the lawfulness of the plan.
In a second case challenging the program, the justices unanimously decided that two individual borrowers lacked legal standing, or the right to sue the government, and threw out their lawsuit.
In a statement sent to BET.com, members of the Congressional Black Caucus thanked Biden for pursuing student debt forgiveness and urged him to "follow through on his promise and act swiftly and decisively to deliver this transformative relief. Our communities have waited long enough."
The statement adds: "For too long, our nation's student debt crisis has disproportionately impacted Black Americans—particularly Black women—due to discriminatory policies that have denied us the opportunity to build generational wealth. It is therefore imperative that President Biden and Secretary Cardona use other tools available to immediately cancel student debt."

Another group, the Student Borrower Protection Center, also expressed its frustration with the Supreme Court decision.

"Today's decision comes only 24 hours after the court issued a shattering ruling reversing decades of precedent on affirmative action, and is further evidence of the court's self-inflicted legitimacy crisis and willingness to place special interests and politics ahead of the American people and the principle of equal justice under the law," the statement read. "Together, these decisions will exacerbate racial and economic inequities in this country and further demonstrate the urgent need for bold court reform."