Would You Date A Bus Driver? Iyanla Vanzant Sparks Debate, Says Women's Dating Criteria For Men Is 'Obsolete''
The dating debate continues as Black women continue to defend their standards for potential relationship partners.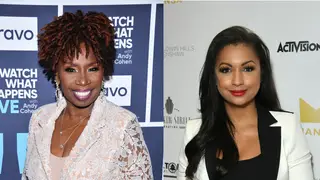 It was the question that set off a thousand thinkpieces, "Would you date a bus driver?"
In a now-viral clip, former television show host, author, and motivational speaker Iyanla Vanzant, 69, asked lawyer, television host, and the first Black housewife on Real Housewives of New York, Eboni K. Williams if she would date a bus driver.
"If he owns the bus…if he owns it. If he owns the bus, Iyanla."
Vanzant replied, "No, that's the problem." She continued, per Essence. "The standards and criteria that we use to measure men is off for who we are as women and who they are in this society."
"I would date a bus driver if he loved driving the bus, if he was a man of integrity, if he was good to his mama, if he treated me well, I would date a bus driver," Vazant continued. "But we think that it's another human being's responsibility to give us what we need instead of us building together."
Williams later appeared on The Breakfast Club to clarify her remarks, but by all accounts--she didn't make things much better--including referring to blue-collar men as "mediocre."
But, others have defended the television personality and her right to choose the type of partner who will make her happy.
Even still other social media users speculated that these same types of questions and expectations are not applied to white women.
Black women are among the most highly educated demographic in the U.S. and their education, incomes, and lifestyles may surpass that of many blue-collar men. It is a situation that has been the almost daily subject of online debate.
However, even Vanzant contended that entering a relationship with a person who is not on the same level financially can imperil a relationship.
When asked if she could build with a bus driver. "I'd have a little stash over on the side and my prenup….but I can build with a bus driver," she said, laughing.
She added, "So I think some of the criteria that we look for in the reality of today keeps us unhappy, keeps us angry, keeps us imbalanced, and then when the men show up we want to beat them up because they're not living up to our standard and criteria and it's not working, beloved. It's just not working."
"So, it's not that it's bad or wrong, it's obsolete," Vanzant concluded. "We have to come up with a new way of being."
And so the debate continues.