This Independent Record Label Is Trying To Help De La Soul Get Back The Masters To Their Back Catalog
The rap trio have been fighting with Tommy Boy Records for years.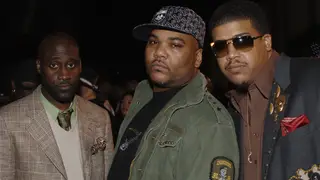 De La Soul has long been at odds with their former record label, Tommy Boy Records, over the rights to the masters of their back catalog. And now, it appears an unexpected ally has come to the legendary rap trio's aid.
On Monday (April 27), Rostrum Records founder Benjy Grinberg told HipHopDX he's trying to help De La Soul obtain the masters to their back catalog by buying Tommy Boy Records outright.

"De La Soul was incredibly impactful and important to my musical upbringing," Grinberg told the outlet. "Along with Prince Paul, they helped influence my love of Hip Hop and of creativity in general. I would love nothing more than to be able to help them in any way I possibly can, though I haven't gotten very far with Tommy Boy. It's an uphill battle."

The first six albums that De La Soul released under Tommy Boy have long been unavailable on streaming platforms amid disputes over the royalties and music rights. 

De La Soul almost reached a deal with Tommy Boy Records in 2019, but negotiations fell through over a dispute, according to SPIN. The group objected to the deal in which they'd only receive 10 percent of royalties from streams while 90 percent would go to Tommy Boy.

"Well friends, after 30 years of profiting from our music and hard work... and after 7 long months of stalled negotiations, we are sad to say that we've been unable to reach an agreement and earn Tommy Boy's respect for our music/legacy," the group announced on Instagram. "With some helpful consulting and long careful consideration, we've decided we will not do our 30+ years the disservice of settling on Tom Silverman's terms. Tommy Boy says they are 'not in the business of giving artists back their Masters.'"

The message continued, "We realize, there is a process in reclaiming ownership but we do not trust Tommy Boy in this process after so many years of disappointment. Therefore, our catalog will not see the light of day by way of our involvement or consent."