WTF? British Website Calls Prince Harry's Black Girlfriend 'Straight Outta Compton'
They dissect Meghan's "gang-scarred" neighborhood.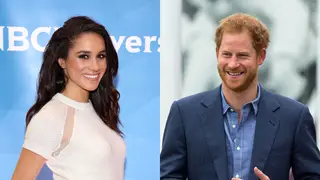 Dating the Prince Harry comes with an unparalleled level of scrutiny, as Suits actress Meghan Markle undoubtedly has realized this week. But when the possible future princess is Black, it sometimes means an extra level of racist paranoia.
British newspapers are tripping over themselves trying to learn more about the television actress who captured Prince Harry's heart, but the Daily Mail published a piece about her hometown in Crenshaw, California, that is so full of dog whistles, it's kind of shocking.
Under the headline "Harry's Girl is (Almost) Straight Outta Compton," the Daily Mail investigates the "gang-scarred home of her mother" in the Compton-adjacent Los Angeles suburb, and ponders, "so will [Harry] be dropping by for tea?"

According to the article, Markle's mother — who is Black — lives in a "tatty, downtrodden" house in the airport-adjacent suburb. The writer goes on to describe the area's history of crime in excruciating detail, including the stats for neighboring areas Compton, Inglewood and Long Beach.
The paper says Markle's mother, Doria Ragland, a social worker, "might now find herself welcoming a royal guest to [her] downtrodden [neighborhood]," adding, for good measure, that the prince is more accustomed to the leafy beauty of Kensington Palace. 
Never mind that Crenshaw is a thriving, robust, diverse suburb with some of the best restaurants in Los Angeles — according to the Daily Mail, nobody should set foot in it without a bulletproof vest on. The article fails to mention that Meghan went to private schools and graduated from Northwestern University, but provides plenty of details on her parents' finances and history with bankruptcy.
Unsurprisingly, nobody from Meghan's family or close circle were willing to talk to the stalkerazzi. 
Get the full scoop on this unlikely couple with BET Breaks, above.