Lizzo Gets Emotional Watching Girl Dance To Her Song On TikTok
"This is literally why I do it," the singer said through tears.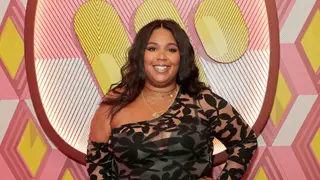 Lizzo is riding high off the success of her latest studio album, Special. The critically acclaimed project has already spawned the hit song "About Damn Time," which is currently the no. 1 song in the country. The feel-good anthem is also a fav on TikTok. The pop diva recently got emotional watching a young girl recreating her moves on the social media platform.
Danielle, who goes by @dcromwelldc50 on TikTok, posted a video of her adorable daughter Aria dancing to  "About Damn Time" and slaying every move. Lizzo posted a reaction video and was clearly emotional watching the joy from little Aria. The caption read, "im crying cus this is EXACTLY why i do what I do 😭😭😭😭 i love you! Keep that confidence and beauty— no one can stop you!"
Lizzo also posted a follow up video, saying through tears, "Still processing that feeling of like... You never think when you're making music you have an effect on people or you have an impact on people's lives. This is literally why I do it."
She continued, "I'm so grateful that people take my music and do good things with it. It makes them move, it makes them dance, it makes them happy, it makes them feel confidence in themselves."
Danielle and Aria responded with another video. "Lizzo was so emotional watching your video… Because all she wants to do is be an inspiration to little girls like you, and we love watching her videos." Aria added how much she loved Lizzo.
See all the cuteness below: