Black Unemployment Dips Again in April
The Black unemployment rate for April was 13.2 percent and the overall unemployment rate was 7.5 percent.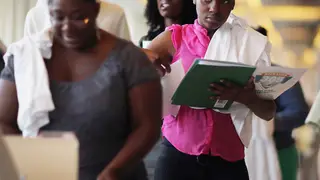 The African-American unemployment rate for April fell to 13.2 percent from 13.3 percent in March, according to figures released by the Labor Department. The overall unemployment rate also dipped, from 7.6 percent to 7.5 percent, a four-year low.
In the week ending April 26, the number of new claims for unemployment benefits fell to 324,000, a five-year low, the Labor Department reported Thursday. New claims below 350,000 are considered to be a sign of modest growth. In addition, the total number of people receiving state unemployment benefits for the week ending April 20, the most recent statistics available, was 3,016,148, compared to 3,292,783 a year earlier.
In more optimistic news, the economy added 165,000 jobs, which was better than expected. Economists had predicted just 148,000. Automatic Data Processing, in its monthly report, had estimated that the private sector had added just 119,000 jobs, the smallest gain since last September. The better-than-expected news shows that the sequester's $85 million in federal spending cuts have not yet impacted private sector jobs, but economists believe that they will be felt more broadly in the third quarter of this year.
The African-American unemployment rate fell for a second consecutive month, but is still extremely high.

"Minority Americans, particularly Black Americans, are facing a fiscal cliff of our own in the disparity of unemployment. In my lifetime, Black unemployment has always been twice that of white Americans," said Robert L. Johnson, chairman of the RLJ Companies and founder of Black Entertainment Television. "This is an unjustified disparity that must not be allowed to continue unless we are willing to accept, once again, a nation that is economically separate and unequal."
House Majority Leader Eric Cantor acknowledged that the report "showed some signs of hope," but couldn't resist taking President Obama to task for pushing policies that the Republican says make it more difficult for people to find jobs.
"At his press conference this week, President Obama failed to even mention the millions of hard-working Americans who remain unemployed or worse, the millions who have completely given up looking for a job," Cantor said. "It's no surprise, given that many of the President's policies, including stifling regulations, high taxes and the implementation of Obamacare, are making it harder for a manager to hire a new waitress or a salesperson or college graduates to get jobs that match their skills."
But Alan Krueger, chairman of the Council of Economic Advisers, defended the president's policies and said he will continue to call on Congress to act on the proposals outlined in his State of the Union address to "help workers earn the skills they need" and "make sure their hard work leads to a decent living."
BET National News - Keep up to date with breaking news stories from around the nation, including headlines from the hip hop and entertainment world. Click here to subscribe to our newsletter. 
  (Photo: Joe Raedle/Getty Images)