Syd Says The Internet's Upcoming Album Will Be Their Last Together
The R&B band has released four albums over the last decade.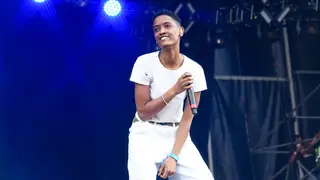 R&B band The Internet will be wrapping up doing music together after lead vocalist Syd announced that their upcoming fifth album would be their last.
In a recent interview with NME, Syd revealed that the quartet who has been in the industry for more than a decade would be going their separate ways.
"The next Internet album will also be our last," she said. "I have no idea what's next. I don't know. Maybe we'll create an Internet label. We talked about that – just signing ourselves."
Syd also made it clear that the reason behind the disbandment was not personal and did not reflect the relationships the band members have with one another.
"The Internet is exactly what we want it to be," Syd said. "It's a snapshot of where we are at the time – individually and together."
The group was originally made up of members Syd, Tay Walker, Patrick Paige II, Matt Martians, and Christopher Smith. Steve Lacy and Jameel Bruner were later added.
Back in 2011, The Internet released their debut album Purple Naked Ladies before releasing three more projects Feel Good in 2013, Ego Death in 2015 and Hive Mind in 2018.
Respective members of the group, Martians, Smith, Lacy and Page have all released solo projects. Lacy earned a Grammy nomination for his debut album Apollo XXI in 2020.
Syd will release her forthcoming sophomore solo album Broken Hearts Club on Friday (Apr. 8).