#BlackGirlMagic: Graduate Becomes The Second Black Woman To Earn A B.S. In Astrophysics From Yale
In a Twitter thread celebrating her accomplishment, Osase Omoruyi called out Yale police for shooting an unarmed Black woman in April.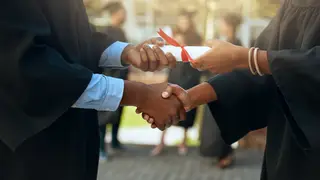 Across the country, millions of college seniors are celebrating the end of their days as a student and the beginning of their life in the real world.
However, one special Yale graduate is also celebrating the incredible accomplishment of becoming only the second Black woman in history to graduate from the Ivy League school with a B.S. in astrophysics.
In a May 27 tweet, Osase Omoruyi revealed she's not only the second Black woman to earn the degree, but also took home a coveted prize from the department of astronomy.
In February, Omoruyi was featured in a special Black History Month thread created by @That_Astro_Chic.

The list highlighted young astronomers around the country. According to the Twitter thread, Omoruyi was accepted to the Harvard Center for Astrophysics Ph.D. program.

Omoruyi's tweet went viral, receiving over 200,000 likes and 23,000 retweets. Although many people were disappointed to hear Omoruyi was only the second Black woman to earn the degree, they were thrilled for her nonetheless.

After seeing the amount of attention her tweet garnered, Omoruyi used the moment to bring awareness to the case of Stephanie Washington, the Black woman who was shot by Yale police while sitting in the car with her boyfriend.

She also gave a shout out to the first Black woman to earn a B.S. in astrophysics from Yale as well as a Black student who will earn one next.

According to the Yale Department of Astronomy website, the school strives to cultivate diverse voices and communities within the program.

"We embrace open communication and constructive discourse to cultivate a welcoming and collaborative community in which all voices are heard and respected. We believe this will lead to a supportive and respectful environment where individuals of all gender identities, sexualities, nationalities, disabilities, and socio-economic, religious and racial backgrounds can thrive. A diverse community broadens the spectrum of ideas, enhances scientific excellence, and supports the overall mission of the Department and the University," read the mission statement.