Steph Curry Wishes President Obama a Happy Birthday With This Dope IG Post
"Somebody in here, it's your birthday."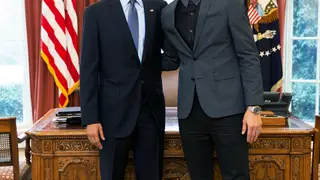 Well, with today being Obama's 56th birthday, Curry used a shot of them playing golf to wish #44 a happy born day.
"Somebody in here it's your birthday!" the two-time NBA champion and two-time MVP wrote on his IG caption. "Happy Birthday #44 @BarackObama."
Check out Steph's IG shot, which shows his arm around President Obama on the golf course, and includes Curry's wife, Ayesha Curry, their daughters and his parents, Dell and Sonya.
Yes, happy birthday to our president! Now, that's a dope IG post!
With Curry fresh off of helping to lead the Golden State Warriors to another NBA title this past June and President Obama months removed from the White House, perhaps it's time for the fellas to re-up on the golf course.
Leave #44's ears alone, though, Steph.
BET Sports News — Get the latest news and information about African-Americans in sports, including weekly recaps, celebrity news and photos of your favorite Black athletes.