Benedict College Launches An Esports Gaming And Degree Track
The HBCU has made history.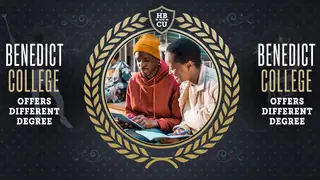 Benedict College has made history as the first HBCU to launch an esports gaming and degree track.
According to WACH, the Columbia, South Carolina, school has given the option to students due to the popularity of gaming.
Matthew Drapeau, an esports professor who started at Benedict College last fall, told the outlet, "You're learning emotional control, problem solving skills, as you come up with things, building things, and critical thinking skills, you can learn cybersecurity skills."
Dr. Janeen Witty, Benedict College Vice President of Academic Affairs, said in a statement to WIS News 10: "In keeping with Benedict's strategic plan to offer transformational learning experiences, our innovative Esports Administration curriculum is designed to prepare students to create new applications and to engage in all facets of the industry."
The increased popularity is clear: 54% of all live streaming content is gaming/esports-related, and esports will be a new sporting category in the 2024 Olympics. Additionally, a number of U.S. colleges and universities are offering esports majors including Northwood University and Ohio State University.