This Day in Black History: Jan. 19, 1994
Reggae artist Bob Marley was inducted into the Rock and Roll Hall of Fame on Jan. 19, 1994.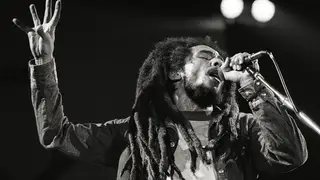 For many Americans, the name Marley is synonymous with reggae, a genre that originated in Jamaica in the '60s. Bob Marley's mastery of the music led him to become the first international superstar from a third-world nation. Throughout his career, he sold more than 20 million records and was posthumously inducted into the Rock and Roll Hall of Fame on Jan. 19, 1994.
Marley was born in Jamaica on Feb. 6, 1945. He began honing his craft as a child when he and a friend, Neville "Bunny" O'Riley Livingston, discovered a mutual love of music and inspired each other to develop their talent.
In 1963, Marley, Livingston and three others formed the Wailing Wailers. Some of the members changed over the years, and Marley even spent eight months in the United States, where his mother was living, the group continued. Their big break came in 1972 with a contract with Island Records. 
They later toured in Great Britain and the United States and opened for Bruce Springsteen and Sly and the Family Stone.
Marley also developed an interest in the Rastafarian movement, which deeply influenced his music. It also played a big role in his death. After cancerous cells were discovered in his toe in 1977, doctors recommended amputation. But because of his religious beliefs, which prohibited it, Marley refused. He lived for several more years before it spread and took his life on May 11, 1981.
Marley's musical legacy lives on through his children, who also are musicians, and the Bob Marley Foundation, which supports people and organizations in developing nations.
BET National News - Keep up to date with breaking news stories from around the nation, including headlines from the hip hop and entertainment world. Click here to subscribe to our newsletter. 
 (Photo: Rob Verhorst/Redferns)