Yandy Smith Confirms When Mendeecees Will Be Out Of Prison And Whether He'll Be Returning To 'Love & Hip Hop'
This should be interesting.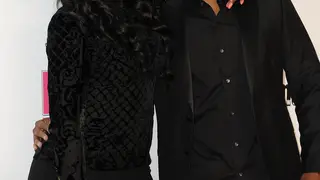 Love & Hip Hop star Yandy Smith is gearing up for her husband Mendeecees Harris' prison release, and according to her, he will be a free man sooner than later.
While walking the pink carpet at the Finding Ashley Stewart tour finale in Brooklyn, New York, on Saturday, the reality star shared a few details about her man's release with Power 105.1, saying that he is set to be out of prison in a few short months.
She also added that, upon his release, he will rejoin the cast of Love & Hip Hop: New York, alongside her and the show's other cast members.
While Smith did not give an exact date on when Harris will be released, previous reports stated he was granted an early release for 2020. He was sentenced to eight years in prison back in 2015 for his involvement in a drug ring that delivered illegal substances between Rochester, New York, and New York City between 2006 and 2008.
It will be interesting to see how much of Mendeecees' release and return to his old life will be captured by L&HH cameras. But fans of the show are surely excited to welcome him back to their screens. The couple was last seen on the show together when Smith told Harris that they were not legally married and that she wanted to "spiritually" marry him. In 2017, she opened up about working on legalizing their union.