Watch: Twitter Went In on Mariah Carey After Trainwreck NYE Performance
Her response was classic Mariah.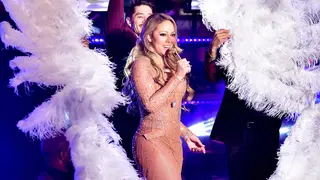 Mariah Carey definitely has made the most headlines so far in 2017.
Last night (Dec. 31), the singer gave what can be best described as a trainwreck performance in Times Square, as she struggled through what she called "technical difficulties," before simply just walking off stage and calling the performance off short.
It was easy to see that Carey was lip-syncing, but on top of that, she either forgot the lyrics or just gave up, not wanting to give a subpar performance considering the evening was already full of mishaps.
Instead, she handled the situation with grace, several times noting that she herself couldn't hear anything, and even acknowledging that "we're missing some of these vocals, but it is what it is." At one point, the singer even went so far as to defend herself, saying, "I'm trying to be a good sport here."
Eventually, there was a malfunction with "We Belong Together" that was the final straw. The singer stopped singing, the prerecorded track kept playing and Carey completely jumped ship. 
"It just doesn't get any better," she says, before leaving the stage.
Naturally, at this point, Twitter was already having a field day, with some saying that 2016 claimed it's final victim (her career) while others said that Carey delivered the performance that the year 2016 deserved.
Carey herself even gave a classic reaction, posting on Twitter, infamously saying, "S**t happens. Have a happy and healthy new year everybody! Here's to making more headlines in 2017."
Take a look at some of the reactions to Mariah Carey's unforgettable NYE appearance below.