Is LaVar Ball Exploring Options For His Sons LiAngelo And LaMelo To Play Overseas?
One report is claiming these steps have already been taken.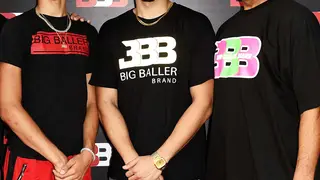 Well, it didn't take long for the controversial basketball dad's reported plan for his 19-year-old son to surface.
Although LaVar and LiAngelo didn't discuss those reported plans during their appearance on NBC's TODAY this morning, the father and son did address their disgust over UCLA's indefinite suspension of LiAngelo.
"That's the whole season, pretty much," LiAngelo said of the suspension. "That's just a long time of doing nothing. I'd rather be playing."
LaVar added: "China already said, 'OK, he made a bad mistake, we're going to drop the charges.' That's the punishment they gave him. Now, we're over here (in the United States). We got to serve some more punishment!? We apologized. What is the long process for? We only went to UCLA one-and-done ... to play basketball."
He also vowed to train LiAngelo well enough to get him in the NBA, where he would join his older brother, Lonzo, a rookie point guard for the Los Angeles Lakers.
And about the Lakers, LaVar is banking on his own promise to get LiAngelo and LaMelo playing alongside his brother in purple and gold.
Watch the full interview below.
Bruins men's basketball coach Steve Alford apparently learned about LiAngelo's withdrawing from the school through the media like everyone else.
"We learned [Monday] of LiAngelo Ball's intention to withdraw from UCLA," Alford said, as reported by CBS Sports. "We respect the decision he and his family have made, and we wish him all the best in the future."
BET Sports News — Get the latest news and information about African-Americans in sports, including weekly recaps, celebrity news and photos of your favorite Black athletes.