Daniel Kaluuya Not Returning for 'Black Panther: Wakanda Forever'
A scheduling conflict with Jordan Peele's 'Nope' will cause the actor to not reprise his role in the Marvel Studios film.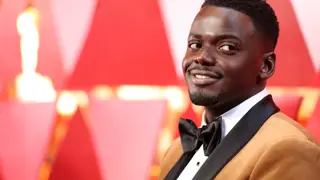 With next week's San Diego Comic-Con highly anticipated by the Blerd community, Variety is delivering some sobering news about Black Panther: Wakanda Forever.

The history-making, box office-breaking sequel to 2018's Black Panther, won't feature Daniel Kaluuya, as it has been reported that the timing conflicted with filming for Nope, the upcoming sci-fi horror film from Jordan Peele.

Kaluuya played W'Kabi, the former head of Wakanda's Border Tribe and best friend to T'Challa, performed by the late Chadwick Boseman. In the film — spoiler alert — W'Kabi betrayed his best friend and sided with Erik Killmonger, the villain who was embodied by Michael B. Jordan.

The SDCC promises a first look at Ryan Coogler's upcoming film, which comes ahead of the film's release this November. With little to no details about the project, Black Panther: Wakanda Forever has been reshaped after the tragic passing of Boseman in 2020. 
RELATED: Five Things To Know About 'Black Panther: Wakanda Forever'

Marvel Studios' top brass Kevin Feige has already gone on record to say that the film will not recast Boseman nor use a digital double to recreate the role on screen.

Despite the other litany of challenges, which included actress Letitia Wright suffering an injury on set, pausing production until January of this year, and a COVID outbreak that halted things immediately after it started up again.

The film is still on track to release on Nov. 10, 2022, and hopefully, after San Diego Comic-Con, we'll be able to share a trailer or first look soon.