A Letter to Sean Price: From a Fan to a Friend
Hip hop lost a dominant force this past weekend. Read about how Sean Price's passing affected Bonsu Thompson.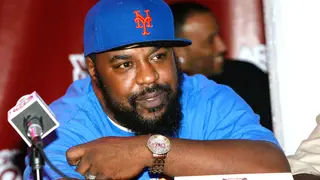 The first time I laid ears on Sean Price was in 1994, when I was on a "road trip" to Raleigh, NC. I had the good fortune of crashing with some much older associates (I was still in high school), who were connected enough to gain me access into a rap concert at Shaw University. The headliners were Brooklyn's Black Moon and two young spitters from Atlanta who went by the name of OutKast (an obviously epic memory). Before Buckshot, 5 Ft and Evil Dee took the stage, their opening act dragged untied Timbs onto it.
Two six-foot-plus dudes—one with unkempt dreads, the other with a wild Afro—whom you wouldn't want at your front door looking to collect. They first announced Brooklyn was once again in the house, then revealed they performed under the name Heltah Skeltah (an uber cool Charles Manson nod; I was "opin"). Individually, they went by Ruck and Rock and true to their monikers sounded like the Wonder Twins and EPMD were blended in a lab then raised in Brownsville's public housing. While both brought their own menacing flair, there was something extraordinary about Ruck, who I would later discover was born Sean Price. His delivery was buttermilk being poured; his rhymes were ice sculptures of gem stars—brutal violence as premium art. 
After that night, I collected anything that Ruck and Rock dropped. Whether a freestyle from Funk Flex's earliest radio show or exclusives debuted on Stretch & Bobbito's legendary broadcast, I owned it. In fact (rap nerd alert), about a year before Baby Paul and Rock switched the "Soldiers Gone Pscyho" beat for Heltah's debut Nocturnal, it was a slower, frighteningly more sinister "Psycho." This would be the track to certify my Sean Price stan-dom. It was clear, the P in tow of Sean also stood for poetry: "My parabellums be swellin' cerebellums where ya dwellin'/so Caucazoids avoid—my n**gas rebellin'." Parabellum made a gat sound so scientific.
While Nocturnal should've dropped at the peak of the group's classic "Leflaur Leflah Eshkoshka" (the song stopped spinning after Sean smacked a Hot 97 security guard with his own desk phone), the LP was still a strong Tetris exhibition of BK rap bars, with Ruck leading the highlights reel (see "Understand" and "Therapy").
Nocturnal didn't explode, and Heltah's '98 follow-up Magnum Force missed the mark. So P got low, spending much of the next several years getting himself and strangers high. When he resurfaced, he crowned himself, "the brokest rapper you know." This self-deprecation is what resurrected Jesus Price. He did what rappers weren't supposed to do: He stood nose-to-nose with his truth, embraced it and became the antithesis via his one-of-one brand of rap: a flow so nimble it helped mask his content's rigidity—threats of bodily harm and hilarious punchlines smacked upside anyone's medulla, himself included. 
Sean Price was actually a better rapper than Ruckus. Similar to Michael Jordan's ascendance, Ruck initially entertained with jaw-dropping acrobatics ("Who is this getting swift with the pugilist equipped with the lyrical gift to flip scripts?"), while the older Price said more, gave more of his arsenal, more of himself ("N**gas all play loyal and yet they all jet/when they f**kin' with a four dollar royalty check"). 
By 2006, Price was making some serious noise as a soloist. 2005's Monkey Barz was a fresh breath of dirty air, and I wanted to facilitate the comeback. So I interviewed P for XXL. We met at the famous Junior's restaurant and climbed over everything from his early boxing lessons to him selling e-pills in his lean years to his crew's beef with Biggie and Junior M.A.F.I.A. the previous decade. I walked away convinced that there were rappers out that maybe were better than P, but no truer MC. Joe Budden can attest.
After Juniors, P and I formed a pretty cool friendship, which is special because he didn't care for too many people. One year, he even invited me to his Brownsville home for Christmas dinner. When I arrived, I noticed his foot was wrapped in a soft cast. The week prior, some guy in his neighborhood got inappropriate with his wife. After Sean was informed, he immediately sprinted down his steps and took a spill, injuring his foot. That didn't save the violator from having P's healthy foot firmly planted between his back pockets. That story had me in stitches. Anyone who knows P, as friend or fan, knows that he's hilarious ("Gotta dime b**ch that live in Japan/black belt, suck d**k, chop bricks with her hand"). He would bounce from crude to honest to imaginative to off his rocker with every bar.
If Sam Kinison were a rapper, he'd be Sean Price. It's partially why P was my favorite rapper on Instagram. I howled when I saw this:
But I mostly loved P on IG for the spotlight it offered his evolution—Ruckus the Decept, to Sean the husband and father, who walks his baby girl (Shaun Price) to her first day of kindergarten.
Sean Price wasn't just a rapper. To me, he was a piece of my developmental years, a high priest in the religion that is Liquid Swords: a more blue-collar, realistic personification of hip hop's saving power. It's not always a rags-to-riches story. More often that tale is Black hawk down to phoenix rising. Can't front, singing Ruck's praises is a bit awkward being that I have a separate relationship with Rock. Like, there is no Sean Price without his wife Bernadette; there is no Ruck without Rock.
So in closing, I say this to the homie Rockness: Please take care of yourself.
The Heltah Skeltah legacy is on your shoulders to curate and carry forward. Last thing I want to do is write one of these sad reflections noting how you bodied "Letha Brainz Blo" or how we both love Satori or that "I buck shots with a steel tek" remains brilliant. I'd rather say it to your face. See you at the wake, homie.
(Photos from top: Mike Lawrie/Getty Images, Columbia Records via Sean Price via Instagram)