Run That Back: This Week in Music, Featuring T.I., Erykah Badu and More
Our music staff picks their favorite songs released May 13-20.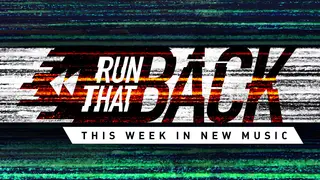 Not much happened this week as far as musical releases are concerned.
T.I. and Dr. Dre dropped a new track though. "Dope," also featuring Marsha Ambrosius, appears just in time for summer. Robert Glasper and Erykah Badu also teamed up for "Maiysha (So Long)," a nice Miles Davis tribute also fitting for your summer cookout.
Fresh off of his mixtape release, Chance the Rapper's been pulling in a ton of downloads of Coloring Book over the past week. Listen to it here.
Dave East – "Dead Man Walking"
Rico Suave brings a proper beat to this one as Dave East does his usual thing of combining slick lyrics with a turn up cadence. The track really travels in all different directions, as East mentions everything from drugs to Flex bombs. But enough about all that. The summer is inching towards us and a cut like this one is designed for the car, cruising down the highway with the sun roof open. Ignore that cryptic song title, though, and just focus on the rest. — Kathy Iandoli
T.I. Featuring Dr. Dre and Marsha Ambrosius – "DOPE"
Troubleman comes back strong with some help from the good doctor. The bass happy track features a sample from the late Aaliyah's hit "Rock the Boat" and is sure to be in heavy rotation as low rider season creeps in. – Jake Rohn
Sampha – "Timmy's Prayer"
Sampha's vocals are one of a kind. Whether you know him through his work with SBTKRT or his features on Drake's Nothing Was The Same, his vocals ache for whatever it is he sings about. With his latest solo record "Timmy's Prayer," we get a palpable sadness that's magnified with a loop of the Chi-Lite's "The Coldest Days of My Life." It's still uncertain whether or not this is a lead single for his debut album, but this has us praying it is. – Jon Reyes
Chance the Rapper – "Same Drugs"
If you were one of the many who thought Chance the Rapper's "Same Drugs" was about... drugs, slap yourself. Now. Don't let the word distract you from the meaning behind the Coloring Book track. Chance crafted a song that describes growing apart so perfectly, that it's resonated on many levels with people from all different backgrounds. The multiple nods to Peter Pan and the notion of growing up are bittersweet, but the soft melody soothes the pain. It's really one of his best songs to date. – Janice Llamoca
Havoc and Alchemist Featuring Prodigy – "The Gun Holds a Drum"
If you're a Mobb Deep fan, you've been fiending for some of that classic crime rhyme for a while now. The Queensbridge duo will be celebrating the official 20-year anniversary of their Hell on Earth album later this year, and perhaps in honor of it, they decided to take it back to '96 — at least lyricaly — on Havoc and Alchemist's recently released collaborative The Silent Partner album. Hav laces some ready rock instrumentals while Prodigy drops one of his best verses in recent memory on the project's only Mobb cut, "The Gun Holds a Drum." Descriptive storytelling is something we used to take for granted from Bandana P, and while it's been a minute since we've got something this dope from the Mobb, we're just glad this came out proper. — Paul Meara
Miles Davis and Robert Glasper Featuring Erykah Badu – "Maiysha (So Long)"
Erykah Badu is doing Miles Davis a proper homage in her latest offering, "Maiyisha (So Long)." Teaming up with Robert Glasper for a collaboration featured on the forthcoming album Everything's Beautiful, the song reworks material from Davis's 1974 project Get Up With It and was inspired directly by an incredible trumpet solo delivered by the iconic musician himself. The seven-minute song features a hook with the millennial phrase "That's what she said" woven into it, which is why Badu was excited to share that the song doubles as an ode to Michael Scott's long-running joke on The Office. The collaborative process between Glasper and Fat Belly Bella was a smooth one, as the two noted that this song was completed relatively quickly, with Badu contributing original lyrics and her vocal talents and Glasper handling the production duties. Enjoy the song's hauntingly timeless moments and soothing, bouncy vibe. — KC Orcutt