A Very Powerful Video From DJ Khaled, Jay Z And Future Is On The Way
It's lit.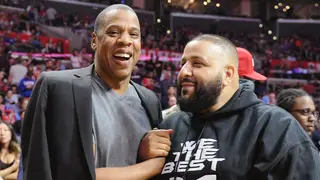 DJ Khaled's been making some big splashes recently – and they've extended further than his booming Snapchat.
The We the Best producer recently released his "For Free" single featuring Drake and now it looks like an epic video is on the horizon for another song that's been in the works for a while.
Taking to Instagram, Roc Nation A&R Kenny "Kodak Lens" Santiago revealed a pic of Khaled, Jay Z and Future, who also performed together at Hot 97's Summer Jam, and announced that the three would be releasing an epic video for "I Got the Keys." Rick Ross, Pusha T and 2 Chainz were also in attendance.
"Yesterday we pulled off something pretty epic," Santiago wrote in the caption. "TRUST ME, it ain't easy especially getting one of these guys in front of the camera. We have a great song that we needed a strong, compelling visual for. We called a lot of friends to help create a memorable and powerful piece of art. They showed up.. And again, we pulled it off."
Interestingly, those involved didn't want any pictures to come out of the shoot initially, but knowing the star power of the three, that was going to be hard to accomplish.
Check out pictures of the shoot below.