Meghan Markle Reveals She's 43% Nigerian On Her 'Archetypes' Podcast
She revealed she wants to do a deeper dig to learn more.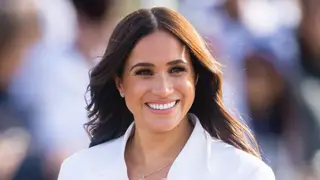 It's always great to learn about your roots, and it looks like Meghan Markle is doing just that as she revealed on her Archetypes podcast she's 43% Nigerian.
Her recent episode featured Issa Rae, Nigerian-American writer Ziwe Fumudoh, and professor Emily Bernards. She shared with her panelists that she took a genealogy test to find out a bit more of her background.
"I just had my genealogy done a couple of years ago; I'm 43% Nigerian,"  she revealed.
Fumodoh questioned Markle, asking her if she was Igbo or Yoruba, to which the Duchess of Sussex said she's "going to start to dig deeper into all of this because anyone that I've told, especially Nigerian women, are just like, what?"
Once we find out more, we'll keep you updated.
You can hear the podcast episode here.