People Magazine Picked Another White Guy as the Sexiest Man Alive
Black Twitter is not happy.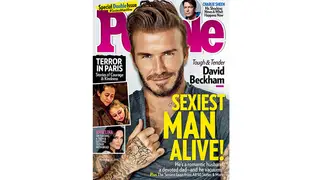 Every year, avid magazine readers look forward to People magazine's highly anticipated list for the Sexiest Man Alive. Well, this year is just a case of the "same ol', same ol'" as the handsome, yet predictable, choice of David Beckham was made. Once the news was revealed, many began to wonder, "Are the brothas not sexy enough?"
While Beckham is one of the most attractive men in sports — and Hollywood — one can't help but wonder why the Black men in Hollywood who continue to top the box office and music charts keep getting overlooked. Well, Black Twitter seems to share our sentiment and has a serious problem with People's choice. A few users aired their disapproval in 140 characters. Check them out below:
So, apparently Black men haven't been sexy for almost 20 years as the last Black man to snag the coveted title was Denzel Washington in 1996. How, Sway? How?! Needless to say, African-American men, like Empire's Jussie Smollett (No. 8), Elba (No. 4) and Morris Chestnut, did manage to make this year's list, but they just weren't fine enough to land the cover.
So, does People's choice mean that "sexy" is equated to white or are folks just looking too deeply into this? Let us know what you think.
Speaking of sexy, take a look at Idris Elba's take on being a sex symbol in the video below:
BET.com is your No. 1 source for Black celebrity news, photos, exclusive videos and all the latest in the world of hip hop and R&B music.