Keke Palmer Is A Lesbian Pimp In New Lee Daniels Movie
This trailer had us in our feelings for real.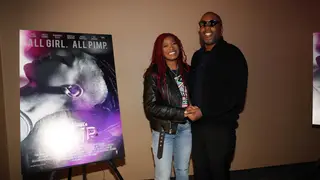 Get ready to see Keke Palmer in a way you've never seen her before.
It was recently announced that the singer/actress will be starring in the new Lee Daniels-executive produced film, Pimp, where she will be playing a struggling pimp who is trying to escape the game.
Her character, Wednesday, is a lesbian hustler in the Bronx who is seen, throughout the film, living the only life she's known. As the product of a prostitute mother and a pimp father, she easily fell into her folks' habits and eventually tries to change lanes.
In an interview with Entertainment Weekly, Palmer shared what the film means to her and why she chose to take on such a boldly different role from her previous ones.
"The movie is really a coming-of-age love story with a backdrop of the pimp industry," she said before revealing that she first heard of the story after spending several years starring in children's shows. "I'd just turned 18, I'd been working a lot with Nickelodeon and Disney Channel, and I really was looking for some cool, interesting projects that could give me the opportunity to show different female characters. I wanted to to do something different and give a voice to a character that really doesn't often get a voice."
Pimp, directed by Christine Crokos, also stars DMX and will be premiering on November 9 in select theaters and on demand.
Take a look at the trailer, below: