Bring That Week Back: Angela Bassett Oscar Snub, Michael Irvin Continues Fight Against Marriott And Mississippi Man Found Dead After Saying He Was Being Chased By White Men
Plus, Kobe Bryant's daughters honor him at the handprint ceremony.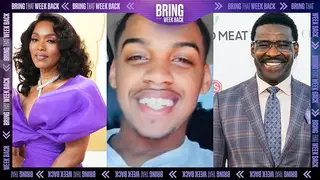 If you missed this week's top news and trending stories, we got you covered. Social media was outraged after Angela Bassett lost the best supporting actress Oscar. Michael Irvin is not backing down from Marriott after he was accused of inappropriate behavior with an employee. Also, a disturbing death of a Black man in Mississippi has gone viral. Here is this week's Bring That Week Back.
Kobe Bryant's Daughters Honor Him At Handprint Ceremony

On March 15, Natalia Bryant, 20, as well as her mother Vanessa Bryant, and sisters Bianka, 6, and Capri, 3, gathered at the TCL Chinese Theater for a handprint ceremony. Bryant is the first athlete to be cemented in Hollywood history at the theater. Natalie said in a touching speech, "He is the MVP of girl dads, to say the least. Being a dad to four girls is definitely not easy, but despite the NBA and Laker schedules, he always made sure to support me and my sisters… at our recitals, games, tournaments, and any monumental moment." See the beautiful speech above.

Angela Bassett Oscar Snub

At the 95th annual Academy Awards legendary actress Angela Bassett was nominated for her role as Queen Ramonda in Black Panther: Wakanda Forever. The best supporting actress nomination came nearly 30 years after her nod for portraying Tina Turner in the What's Love Got to Do with It biopic. Sadly, Bassett lost and social media was outraged. See one of the many reactions above.

Ruth E. Carter Makes History At The Academy Awards

While Angela Bassett did not win at the Oscars, there was room to celebrate for Ruth E. Carter. She made history by becoming the first Black woman to win two Academy Awards. In 2019, she won Best Achievement in Costume Design for Black Panther and she won Sunday (March 12) night in the same category for Black Panther: Wakanda Forever. Carter has worked on 50 feature films, including Selma, The Butler, Marshall, and Coming 2 America. See her speech above.

Singer Bobby Caldwell Dies At 71

Bobby Caldwell, a celebrated singer, and songwriter passed away on March 14 at the age of 71, according to USA Today. His cause of death was not revealed. Born on August 15, 1951 in New York, Caldwell was known for his exceptional ability to blend various genres of music, including jazz, R&B, and pop. His hits include "What You Won't Do for Love," "My Flame," and "Coming Down From Love," which earned him worldwide recognition, including a Grammy nomination for Best R&B Vocal Performance in 1978. Caldwell's music has had an enduring impact on the industry, with several hip-hop artists, including A Tribe Called Quest and Common, sampling his music. See his performance of his 1978 signature hit "What You Won't Do for Love" above.

St. Louis Mayor Appoints Nine Residents To City's First Reparations Commission

In December 2022, St. Louis Mayor Tishaura Jones signed an executive order to create a reparations commission. Jones has now assigned nine residents to the commission. According to the St. Louis  Post-Dispatch, the mayor's office said in a statement, "The volunteer commission will analyze the history of race-based harms in the city and reveal the modern manifestations of injustice. Ultimately, the commission will offer recommendations for methods to develop and implement reparations for Black St. Louisans and the descendants of enslaved peoples." The first meeting will take place next month.

Michael Irvin Continues His Fight Against Marriott

Former NFL wide receiver Michael Irvin is continuing his fight against the Renaissance Phoenix Downtown Hotel, linked with Marriott International after he was accused of inappropriate interaction with a female employee. Marriott requested the lawsuit be dismissed because it was filed in Texas. Irvin withdrew the lawsuit and refiled in Arizona. Additionally, video footage has been released of the brief encounter, which was less than two minutes, however, there was no audio. After the Feb. 5 accusation, Irvin, who was on assignment for the NFL Network to cover Super Bowl LVII week, was removed from his hotel and the NFL Network dropped him from its Super Bowl coverage. According to The Washington Post, his future status with the network was unclear. See the footage of the interaction above.

Rasheem Carter Was Found Dead After He Said White Men Were Chasing Him

On Oct. 2, Rasheem Carter, 25, was reported missing after his mother said he tried to get help from police. Carter frantically called her to say white men in three trucks were pursuing him. By Nov. 2, his remains were found in a wooded area south of Taylorsville, Mississippi. In a statement on Facebook a day later, the Smith County Sheriff's Department said it had "no reason to believe foul play was involved." After the story went viral and demands for answers from the family, who are represented by Benjamin Crump, Smith County Sheriff Joel Houston told NBC News on March 14 that foul play has not been ruled out. Carter's family is asking for the Department of Justice to take over the case.

Arizona Schools Chief Starts Hotline To Report Educators Teaching Critical Race Theory

The Arizona Republic reports that education superintendent Tom Horne, who vowed as a candidate to wage a war on critical race theory, recently launched a hotline for people to report "inappropriate lessons that detract from teaching academic standards," namely topics that could be considered CRT or emotional support curriculum. Gov. Katie Hobbs, a Democrat, vetoed a bill that would have banned the teaching of critical race theory in Arizona schools, The Arizona Mirror reported on March 9. It's unclear how this will impact plans for the hotline. Virginia had a similar hotline but was shut down in November 2022 due to a lack of calls.