Abdul-Jabbar Praises LeBron James for Speaking About Police Violence
Hall of Famer Kareem Abdul-Jabbar says it's important that NBA players voice their opinions on social matters.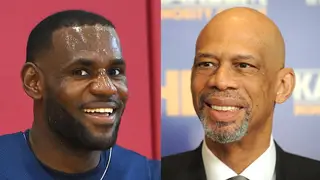 And Kareem Abdul-Jabbar couldn't be more proud. The Hall of Fame center and six-time NBA champion recently told BET.com that he was pleased that King James took a stand and voiced his thoughts on the rash of ongoing police violence against Black men.
"I was happy that LeBron James spoke out about all the deaths that are occurring in interactions between Black Americans and the police," said Abdul-Jabbar, who was perhaps the most socially conscious NBA player during his 20 years in the league from 1969 to 1989. "That has been an ongoing problem for decades and now we are finally dealing with it and we have the courage and see the need to talk about this issue and try to do something about it."
Abdul-Jabbar says it's important that athletes, especially NBA stars, keep taking a stand.

"Just the fact that some NBA stars feel the need to speak out on important issues, I think is a very good thing," he continued. "It's making it so that people who follow the NBA understand that there's a lot going on with the individuals that they admire and follow as athletes. So, I think it's a good thing because [speaking on social issues] enables them to reach more people."
And for the athletes out there that want to speak out, but aren't sure how, Abdul-Jabbar has the following advice: "I'm sure that there's athletes right now that have to motivation [to speak on social issues]. Not all of them do it, but there are any number of them that can do it. All they have to do is take the initiative."
Abdul-Jabbar is currently promoting his documentary, Minority Of One, which is set to air on HBO on Nov. 3 at 10 p.m. The documentary shows his dominance on the court and willingness to voice his opinions on social matters.
BET Sports News — Get the latest news and information about African-Americans in sports, including weekly recaps, celebrity news and photos of your favorite Black athletes.
(Photos from left: Ethan Miller/Getty Images, Brad Barket/Getty Images)