Op-Ed: The HIV Epidemic Is A Social Justice Issue
To create real change, the impact of HIV needs to be discussed in all-Black spaces, not just queer ones.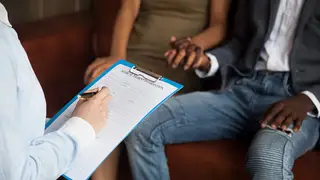 As we know, the CDC estimates 50% of Black men who have sex with men (MSM) will contract HIV over their lifetime, in comparison to 25% for Latino MSM's and 12.5% for white MSM's. 
It is important to reflect on several important topics of discussion about HIV and how it affects not just our community, but several Black communities. 
For starters, HIV is not just a Black gay issue or health issue. HIV is an issue for the entire Black community both domestically and foreign. 
Although media often showcases HIV as a Black LGBTQ issue, it fails at times to show how it also affects Black heterosexual women as well as Black heterosexual men. It is important that when we discuss the HIV epidemic, we are inclusive of the various ways it shows up in our community. 
While the Black LGBTQ community has epidemic-level rates, Black women are still the highest carrier of the virus in America of all women demographic groups. 
The failure in us discussing this issue at its intersection with various parts of the overall Black community puts us at a disadvantage. 
Siloed conversations harm us by not allowing Black men and women from the heterosexual community to understand the role they play in the overall epidemic. 
It is important for us moving forward to have these conversations in all Black spaces, not just Black queer dominated ones as HIV is a social justice issue. One we all need to be vocal in.
Disclosure is also an important piece of this conversation. As someone living with HIV, I am required to disclose my status with any sexual partner. 
However, the burden often falls on those who are HIV positive to do the work of sexual responsibility and accountability for the entire community. 
Related: National Gay Men's HIV/AIDS Awareness Day: 5 Myths Black Communities Should Abandon
As someone who is also queer, I know how the virus disproportionately affects my community. As important as it is for me to disclose, it is just as important that prior to having sex BOTH (and however many) parties involved are asking the correct questions. 
Many feel asking someone's status is offensive. It is not. It is one of the tools we have to create better sex practices for our community. 
Assuming that if nothing is said then everyone is negative is dangerous. HIV-negative people have a responsibility to protect themselves by asking the proper questions. 
And if someone responds they are positive, negative, or not willing to disclose, you then have the choice on how to engage. 
Disclosure is a forever thing for HIV positive people. No matter how public I am with my life and my status, I will always meet someone that doesn't know and potentially have to disclose. 
Over the years it has gotten easier, but it can only become practice once we as parts of Black communities stop the stigma that comes along with being HIV positive, as well as any shaming.
Stigma is what stops people from getting tested. Stigma is what stops people from getting on the right medication once they are positive. 
There are many people who know you can have a high quality of life with HIV but are more afraid of the stigma than the actual virus. 
Sex is still a very taboo patriarchal subject in the Black community. We have not moved to a place where discussing sex is productive and many are operating in a sexual space without the right language and tools to protect themselves.
We can no longer be afraid to talk about HIV and sex in the Black community. It is an "all of us" issue that can no longer be burdened only by those who are at the highest risk of infection. 
If we are truly going to get to a place where we end the HIV epidemic by 2030, it starts with us as a community empowering one another to get tested regularly—and even more, empowering each other to take responsibility for our own sexual health.