Soul Train Awards 2022: Get To Know Legendary Comedian And This Year's Presenter JB Smoove
The veteran comedian was one of many celebrities attending this year's award show.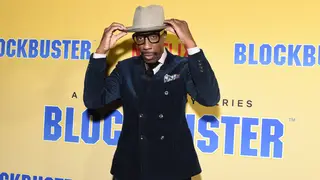 Veteran comedian and actor J.B. Smoove has been making fans laugh since the mid-90s, as a comedian on Def Jam Comedy and as a writer and performer on various shows like NBC's Saturday Night Live, Curb Your Enthusiasm, and The Millers. This year at the Soul Train Awards 2022, he brought some of that classic comedy as he honored Morris Day and The Time.  Let's get to know this year's presenter better.
He went to college for graphic design

Before beginning his entertainment career as a comedian on the iconic series Def Comedy Jam and later a writer and performer on NBC's Saturday Night Live, J.B. attended Norfolk State University in Virginia, studying engineering and graphic design.

He gives back to his hometown in a significant way

The comedian and his family moved from Plymouth, North Carolina, when J.B. was just three to Mount Vernon, NY, where he graduated from Mount Vernon High School. Years later, he returned to his hometown to serve on the board of directors of the Boys & Girls Club of Mount Vernon. In 2017, he emceed the Boys and Girls Clubs Future Leaders Gala at The Beverly Hilton in Beverly Hills, CA.

He added the 'Smoove' once he began comedy

Before getting his big break in Hollywood, J.B. worked as a perfume formulator and a  door-to-door fire extinguisher salesman. When he began performing stand-up comedy, he shortened his name Jerry Angelo Brooks to "J. B." and added Smoove.