How NWA Went From Small Screen Troublemakers to Big Screen Stars
As "Straight Outta Compton" heads to the big screen, BET breaks down the NWA legacy.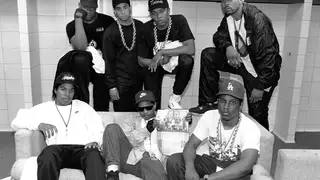 O'Shea "Ice Cube" Jackson is still getting over the shock of it all. The West Coast rap icon, Hollywood actor, producer and big screen power broker is sitting in a cluttered press room at the Four Seasons Hotel in the posh section of Beverly Hills, California. It's a gorgeous August morning, and the subject at hand is the upcoming Straight Outta Compton film, a major studio-backed celluloid retelling of the notorious rise, implosion and incalculable influence of hip hop supergroup NWA. For over a decade, the film had been in production hell, a victim of screenwriting issues and nasty budget battles. 
But here we are, nearing the August 14 Universal release of Straight Outta Compton, and Cube is taking it all in. 
"People may have had their visions of what the story should be, but I knew what it was supposed to be," Cube says of the process of getting Straight Outta Compton in its right place. "And I knew what it needed to be, and if it wasn't that I wasn't with it." Directed by veteran filmmaker F. Gary Gray, while produced and meticulously overseen by the aforementioned Cube, Andre "Dr. Dre" Young and Eric "Eazy-E" Wright's widow, Tomica Woods-Wright, Straight Outta Compton joins lone rap biopic Notorious, the 2009 chronicling of the life and times of Brooklyn rhyme giant the Notorious B.I.G. 
The story of NWA (N****z With Attitudes!!!) has now become popular music folklore: enterprising crack dealer Eazy-E is recruited by gifted producer Dre to bankroll his fledgling local group, which also features bruising, extraordinary emcee Cube, two-fisted spitter Lorenzo "MC Ren" Patterson and turntablist DJ Yella. Soon, the charismatic Eazy quits the dope game, picks up a mic, joins NWA and establishes Ruthless Records, igniting arguably hip hop's most controversial run. 
NWA's 1987 debut single "Boyz-n-the-Hood" shakes up the heavily East Coast-centric rap game with its explicit tales of 64 riding, beatdowns and shootouts in the Los Angeles suburbs of Compton, California. But it's NWA's incendiary 1988 protest record "F**k tha Police" that truly transforms the crew into countercultural legends, spurring condemnation from politicians, church organizations and the FBI, which famously sent the group's record label a threatening warning letter. That same year, NWA's debut album, Straight Outta Compton, goes double platinum. Hip hop would never be the same.  
The mammoth cultural impact of NWA was not lost on the on-screen talent entrusted with filling the immense shoes of the self proclaimed World's Most Dangerous Band — a daunting task considering that the young actors are virtually unknown. "It's a testament to people taking a chance [on us]...Universal taking a chance on us," says Corey Hawkins, who portrays Dr. Dre. O'Shea Jackson Jr., the spitting image son of Cube and lone acting newbie in the cast, takes a lighthearted view on his lack of thespian training. "As far as me? Magic Johnson won the championship his rookie year," he muses. 
The task was even more unenviable for Gray, who had the main responsibility of fitting a decade's worth of material into a two-plus hour film. "We pushed to make it great," he says of his all-or-nothing approach to Straight Outta Compton. "We pushed to make it authentic. That was our goal: How can we improve every scene? How can we tell this story? Every scene has to live up to that." 
Continues Gray: "I knew from the start that it was an important story that needed to be told for all the obvious reasons and some not so obvious reasons. Ultimately, I knew it would get made. It was just how. And so Universal made it and it was the best home for it."  
Of course, there's more to the NWA story. Ice Cube bolted the team, disgruntled by money issues and the involvement of manager Jerry Heller. O'Shea hooked up with Public Enemy's production unit the The Bomb Squad and dropped his landmark solo debut, Amerikkka's Most Wanted. As detailed in the film, Cube and the remaining NWA members went at it on and off wax, dropping some of rap's most venomous diss tracks. Soon, Dre would follow, joining up with the imposing Suge Knight to launch the infamous Death Row Records as MC Ren went solo and Yella became a adult film mini-mogul. 
Meanwhile, Eazy would go on to discover and groom the multi-platinum Cleveland rap act Bones Thugs-n-Harmony and later made peace with his NWA brethren before shockingly dying of AIDS. But the group's legacy would go on to even greater heights. Two decades plus later, Eazy is viewed as a trailblazing D-boy-turned-label head visionary. Cube has graduated to major Hollywood player, headlining such films as Friday (1995), The Players Club (1998) and the recent Kevin Hart team-up and box office hit Ride Along (2014). And that Dr. Dre guy? He's worth nearly $1 billion off his Beats by Dre headphone line and released Compton: A Soundtrack, the ridiculously long-awaited follow-up to his Chronic 2001 (1999), on August 7. 
Indeed, the tale of NWA is as brazenly wild as it is triumphant. "I tried not to act like a fanboy when I was around Dre, Cube, Ren and them," says the hulking, but affable R. Marcos Taylor, who plays Suge Knight. "I remember when Eazy E and NWA first came out. We had these guys on our posters. I still can't believe I am a part of this film."  
(Photo: Raymond Boyd/Michael Ochs Archives/Getty Images)