Shawty Lo Vigil Brings D4L Members, Crown Vic and More
Hundreds show out to remember the King of Bankhead.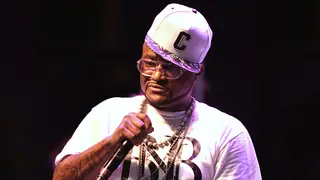 The hip hop world has been mourning Shawty Lo's death over the past few days. It's now culminated in a candlelight vigil for his memory.
Hundreds showed up for the Wednesday night (September 21) vigil in his hometown of Bankhead, Atlanta. Lo passed away in a car accident earlier in the day when his white Audi reportedly went over a guardrail, hit trees and caught fire. Police say two other passengers were in the car and taken to the hospital with varying injuries. He and the passengers had been at the Blue Flame Lounge in ATL just hours before the accident.
REVOLT TV was at the vigil and captured some of what went down. The network talked to some of those who knew Shawty Lo best and captured their disbelief on camera.
"It's so shocking man," former collaborator Crown Vic said. "I was in the bed and I woke up from a phone call saying that Lo's dead. Lo was in a car accident. It was heartbreaking man."
T.I., who was a former rival of Lo's, took to Instagram with a long message about someone he always respected.
"RIP to a true Westside Atlanta Legend!!!!! You truly represented Bankhead to the fullest!!! My Heart goes out to his family,and his children as well," read the capition of a pic of T.I. and Shawty from years ago that he posted. "Even through our toughest times I must admit I was impressed,& kinda proud of how well you rep'd our hood,and how much you cared for it. It was a real relief to have someone else helping to lift Bankhead up & hold it there. Can't say enough about how much you meant to the city. Glad we matured beyond our trivial personal differences in time enough to have a laugh about it as neighbors. For those of us who were around & 'in the mix' in the mid-late 90's,we know the 'Legend of Lo' started waaaay before Music. We salute U G!!!! Rest easy,You'll truly be missed. #RIPShawtyLo #TrueAtlantaLegend."
Shawty Lo, born Carlos Walker, was 40 years old at the time of his passing. He leaves behind eleven children who were famously featured on his Oxygen show All My Babies' Mamas. Lo was also a founding member of D4L and known for his own solo hit "Dey Know." In 2008, Shawty Lo won Rookie of the Year at the BET Hip Hop Awards. He also won Track of the Year for "Dey Know" that same year.
As a group, D4L's song "Laffy Taffy" was a seminal example of the "snap rap" movement and it, along with Soulja Boy's "Crank That," would continuously top the charts in 2006. Eventually Shawty Lo would sign his D4L Records under 50 Cent's G-Unit South imprint in 2011.