Kodak Black Tells Instagram Live He Doesn't Really Like Black Girls
Come again?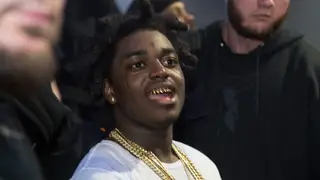 Kodak Black's been one to speak his mind, and it often times, it's gotten him in trouble.
That's what happened recently during a session on Instagram Live. Someone asked Project Baby if he would date singer and actress Keke Palmer. His reply was that he's not into black girls all like that.
"Keke Palmer, she straight," the Pompano Beach, Florida native said. "I'd bag her, but I don't really like black girls like that, sorta kinda."
Ummm??? Perhaps more jaw-dropping was his admission that he'd rather date women like Taylor Swift and Jennifer Lopez.
Actually, if you've been paying attention to the 20-year-old's career, he has alluded to not being fond of black women before. Last year, right before he was hauled off to jail in May, Kodak recorded a studio session during which he rapped some other derogatory bars about black women and their array of complexions.
"Where them yellow bones? / I don't want no Black b***h / I'm already Black / Don't need no Black b***h," he spit.
Somebody needs to come get their mans. See all of what he had to say during his recent IG Live session below.