Megan Thee Stallion Opens Up About Traumatic Shooting And More In Interview With Gayle King
"Half the time I just want to pick up the phone and call my momma and be like 'What do I do?'," the Grammy Award-winning rapper says.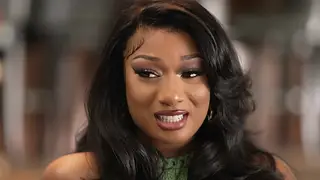 Grammy Award-winning recording artist Megan Thee Stallion has spoken out for the first time since the aftermath of her traumatic 2020 shooting and the impact the incident had on her both personally and professionally.
The Houston rapper and CBS Mornings co-host Gayle King chatted exclusively about Megan's successful career and the night in the Hollywood Hills that almost derailed it all after accusing rapper Tory Lanez of shooting her in the foot. 
The interview premiered on Monday (April 25) on CBS Mornings where the superstar detailed the night of the shooting.
"It was an argument because I was ready to go and everybody else wasn't ready to go, but that's like normal friend stuff. We fuss about silly stuff all the time," the rapper shares in a CBS News video clip. "But ... I never put my hands on anybody, I never raised my voice too loud. This was one of them times where it shouldn't have got this crazy."
As she further explained the incident that took place in a parked car, Megan claims that Lanez (born Daystar Peterson) was "standing up over the window, shooting" at her.
"So, I get out the car and it's like, everything happens so fast," she shares with King. "And all I hear is this man screaming, he said, 'Dance, b—!' And he started shooting. I'm just like, 'Oh my God.' He shot a couple of times."
Tearfully adding, "I didn't even want to move. I didn't want to move too quick, 'cause I'm like, 'Oh my God, if I take the wrong step, I don't know if he could shoot something that's super important, I don't know if he could shoot me and kill me.'"
Megan Thee Stallion has stated that Lanez did apologize after shooting at her but quickly offered her and her friends "a million dollars" in the hopes that she would stay silent following the chaotic night. But police had already arrived on the scene and soon ordered all passengers to step out of the car.
"I don't remember everything (the police) said to me, but I remember them asking 'what happened to you?' And I didn't want them to kill any of us or shoot any of us, so I just said I stepped on glass." 
"For some reason, I was just trying to protect all of us," she said. "I didn't want (the police) to kill us. Even though this person just did this to me, my first reaction still was to try to save us. I didn't want to see anybody die, so I said I just stepped on glass. So when I see people try to use that against me, to say I was lying … I was lying to protect all of us. Sometimes I wish I would have never said that."
Megan also explained how her life has changed since the shooting. 
"I feel like my anxiety is worse," she explains. "My relationship with people has gotten very cold [because] I'm not as trusting as I used to be. I got this wall and I don't want to make any friends."
She continued, "Half the time I just want to pick up the phone and call my momma and be like 'What do I do?'"
Lanez was arrested during the time of the shooting and charged with carrying a concealed firearm in a vehicle. He was released on $35,000 bail hours later the same day. In October 2020, he was charged with one felony count each of assault with a semiautomatic firearm, personal use of a firearm, and carrying a loaded, unregistered firearm in a vehicle, according to CBS News.  
Earlier this month, Lanez was taken into custody before being released on bond after authorities said he violated court orders prohibiting him from contacting Megan Thee Stallion or discussing any discovery in the case with outside parties.
He has pleaded not guilty. His next court hearing is set for June, before the trial start date which is currently scheduled for September 14, 2022. If convicted, he faces a maximum sentence of roughly 23 years. 
Watch the full interview below: