Megan Thee Stallion Calls Out Tory Lanez With Receipts Amid Shooting Case
The "Flamin' Hottie" rapper headed to her Instagram to respond.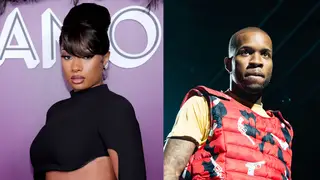 Megan Thee Stallion is airing out Tory Lanez with personal receipts after he attempted to call her a liar amid their upcoming court date regarding the 2020 shooting incident in the Hollywood Hills that left the "Flamin' Hottie" rapper shot in the foot.
According to TMZ, Lanez was scheduled to appear in court on Wednesday (Feb. 23) but the date has since been pushed to April. The "Say It" artist soon headed to his Twitter account with a subliminal message reportedly referring to Megan.
"U can't buy and tweet your way out of this one .. not today," he wrote.
To which Meg swiftly responded on her Instagram account in a now-deleted post with alleged text messages from Lanez, TMZ notes.
"Lie yo way out of this … if you aint do s*** what you was apologizing for? THEY GOT YOU RECORDED ON THE JAIL PHONE TALKING TO KELSEY APOLOGIZING BEGGING US NOT TO TALK," she captioned her post.
Media personality DJ Akademiks also attempted to post a false update about the court case in a now-deleted tweet claiming that the Canadian rapper's DNA wasn't found on the gun allegedly used to shoot the Houston rapper in the foot.
As Akademiks' tweet started to go viral, Meg headed to her Instagram story to express her frustration about "false narratives."
Tory Lanez's next court date is set for April 5.