Kerry Washington Calls Out Shaq For Sliding in Her DMs
The Emmy-winning actress is promoting her new book "Thicker Than Water."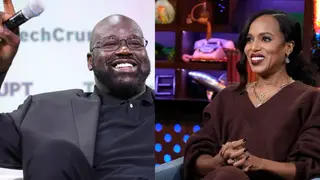 Kerry Washington is dishing the succulent celebrity tea during the promotional tour for her new book "Thicker Than Water" – including information on a certain NBA legend.
Washington was a guest on Thursday's (Sept. 28) episode of Bravo's "Watch What Happens Live" when host Andy Cohen asked her, "Who's the most famous person to slide into your DMs, wanting to connect as a friend or otherwise?"
"Um, Shaq, Shaquille O'Neal," she replied to Cohen's vocal surprise.
"He's a big 'Scandal' fan. He's always like, 'I'll do anything for Command,'" Washington said of O'Neal's reference to a character on the show.
The 46-year-old also divulged that Oprah Winfrey is the most famous person in her contacts list and that her most recent celebrity text came from Jennifer Aniston.
"Yeah, she sent me proof that she had just bought the book," Washington said of the "Friends" alum. "It was really cute."
Washington, who has been married to former NFL player Nnamdi Asomugha since 2013, also admitted that Lionel Richie was her first celebrity crush and that she had his poster on her wall.
"Thicker Than Water" released Tuesday (Sept. 26).