J-Boog On Instagram: 'It's Okay To Feel Alone In A Room Full Of Losers'
The B2K member posted the mysterious message amid recent reports regarding the group's tour.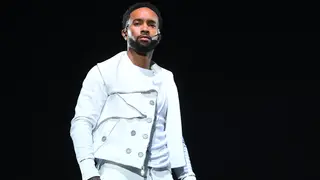 Amid reported tensions between the members of R&B boy group B2K, J-Boog took to his Instagram to post the following statement:
"It's ok to feel alone in a room full of LOSERS.. We just different."
The ominous message soon sent fans into a frenzy, as they speculated whether or not the 33-year-old singer's PSA was any indication of his current relationship with his B2K bandmates. As most know, the famed R&B group is currently on a trip - and tour - down memory lane as all four members of B2K recently reunited for the Millennium Tour earlier this year.
However, the tour has been met with setbacks. On Friday (May 10), the official Instagram page for B2K announced that member Raz B would be stepping down from the tour, to focus on self-care:


While Boog's recent post doesn't provide enough context to confirm such beliefs, let's hope for the best between the members as they finish out the remainder of the tour.