Amina Buddafly Claps Back At Tara Wallace After She Reportedly Slammed Her Marriage To Peter Gunz
The shade is real.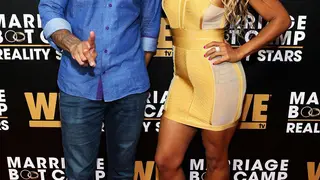 The love triangle of Love & Hip Hop alums Amina Buddafly, Peter Gunz and Tara Wallace will go down in reality show history.  It's messy, dramatic and hard as hell to follow.
Reportedly, Amina and Peter are officially over and now — Tara has something to say.
In a video that surfaced today, Tara ranted, "I don't give a f*ck if she's his wife, you don't marry someone while they are living with someone and expect them to move on. That's just not how it works." She also added, "I'm not obligated to do nothing. I don't care who is married."
Bascially, Tara is saying Peter Gunz marrying Amina did not deter her from being the side chick. See below:
Well, Amina clapped back by commenting on the video:
Tara is now saying it's an old clip and it's "so annoying" that people are upset by her comments. See below:
Looks like the three-way drama between these folks won't end anytime soon.