Receipts? Joseline Accuses Stevie J of Being Gay
Things are getting messy between these two.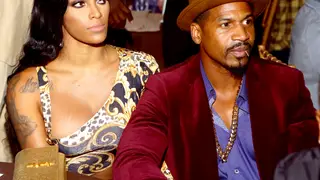 There seems to be more trouble in paradise for the Jordans.
After slamming her husband Stevie J for "sounding like a h*e," and claiming they never even got married, Joseline Hernandez is continuing to speak, now accusing Stevie of being gay.
After Stevie went in full throttle on her in an Instagram video, saying she won't amount to much, the self-proclaimed Puerto Rican princess clapped back on Twitter, ripping her husband even more — this time, questioning his sexuality:
She even threatened to expose him in a lie detector test, tweeting, "Lie detector test about your true liking will be out n***a holla at Jesus for this 1."
She continued on her rant, with another IG post, this time of a GIF reading, "I have the receipts." The caption was pretty brutal: "Your best bet is to keep my name out your d**k suckers lil n***a," she wrote. "Cause you and I know the the truth and when I bring out that lil piece of paper your loose booty is goin to s**t your pants. Watch it undercover boss."
Not even Stevie's family is exempt from the shade. Joseline dragged his ex Mimi Faust and their daughter Eva into the mix, claiming she saved their lives when they were living in a garage "dying of heat."
"F**k n***a I found you at Mimi sister garage you Eva and Mimi was dying of head," she wrote in an Instagram caption. "Don't forget I gave you your baby and baby mama money for food b***h back track."
Things are just getting messier by the minute between these two. See what Joseline did to get revenge on her husband on Wendy Williams above.