Mathew Knowles Is Dropping An Unreleased Destiny's Child 'Girls Tyme' Album
It will reportedly be available in December.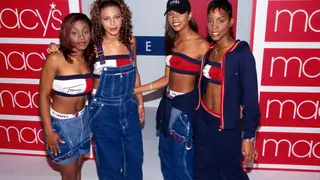 While there's plenty of footage online of Beyoncé, Kelly Rowland, LeToya Luckett, and LaTavia Robertson from their days as Girls Tyme pre-Destiny's Child, fans haven't been so lucky on the music front. Outside of YouTube clips from their Star Search audition and a few leaked tracks, their music has not been available to the public -- until now.
On Thursday (Oct. 25), Mathew Knowles announced via Instagram that he will drop an album full of previously unreleased music from the group's glory days.

Mathew keep things brief and succinct. "It's music world Wednesday and this week we're doing Girls Tyme, 'Wanna Be Where You Are,'" the former dad-ager said in a brief video clip uploaded to his personal account before the video cut to a cherubic portrait of Girls Tyme. Dressed in oversized hoodies, a young Beyoncé, Kelly, LeToya, and LaTavia are flashing a confident smile in front of a yellow backdrop. 

In the next panel, the video promises that the pre-Destiny's Child LP is coming soon.

"Destiny's Child: The Untold Story. Girls Tyme. December 2019," the screen reads before it fades to black. 

This coming holiday season is going to be a busy one. Mariah Carey is kicking off her All I Want For Christmas tour in celebration of her Merry Christmas album's 25th anniversary in November. Then, Kanye West is slated to drop Jesus Is Born on Christmas Day.

Check out the clip below.