Fans Upset After Kanye West's 'Donda 2' Fails to Release On Time
His loyal stans threw down big money even though the LP fail to drop on Feb. 22.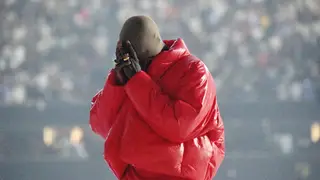 Fans were shocked and surprised after they dropped major coin to listen to Kanye West's Donda 2 — exclusive to his platform, Stem Player — and it has yet to be released.
Announced via his social media channels last week, Ye said that his sequel album would not be featured on any of the major DSPs (Apple Music, Amazon, Spotify, YouTube). "Today artists get just 12% of the money the industry makes. It's time to free music from this oppressive system. It's time to take control and build our own," he wrote.

Fans quickly dug into their digital wallets to fork over around $230 total for a Stem Player, which is being billed as "the first Yeezy tech product," according to West, and receive an advance copy of Donda 2. The move proved very lucrative for West, who alerted his followers that he had brought in $2.2 million in a single day from the gadgets.
"To earn the $2.2 million we made on the first day on the stem player the album would have had to stream 500 million times," he wrote on Instagram. "We did more revenue on stemplayer, without the album even being out, than we would have done with the album being out on streaming."

While his fans remain hopeful that the album will still come out today or in the near future, West has a listening party scheduled for Donda 2 tonight (Feb. 22) in Miami, Florida.