Twitter Users Are Sharing Their Funniest 'Black Math' Moments
How many of these are you guilty of doing?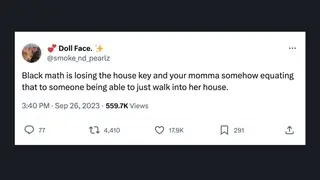 According to the internet's latest theory, if you've ever told someone you were pulling up when, in fact, you were 15-20 minutes away, you've been engaging in what's humorously being referred to as "Black math." It's the latest online trend emerging out of Black Twitter earlier this week, highlighting seemingly unusual yet relatable perspectives on everyday problems.
Social media users soon began sharing some of their wildest "black math" moments. Check out some of the funniest ones below.