E! Greenlights Anthony Anderson Reality Series Debuting In 2023
The series is one of the five new unscripted series for the network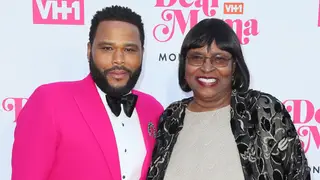 Mama Anderson is ready for her debut as Doris and her son Anthony Anderson are set to premiere a reality show with the working title Anthony Anderson and Mom: European Vacation which E! announced on Wednesday (May 11th).
The former Black-ish star will embark on a six-week journey with his mother around Europe.
"Anthony Anderson owes his mama Doris a lot," the description of the show said.
"She gave up her own dreams of being an actress to raise him. As a token of his appreciation, he's treating his mom to the trip of a lifetime — a six-week tour around Europe. However, spending this amount of quality time will be a real test for their relationship as the pair disagree on just about everything. This series delivers chaos, comedy, and lots of emotion as they navigate both Europe and their relationship — all in a heartwarming, fun, and unforgettable mother/son European road trip."
Anderson will not only star in the series, but he will also executive produce.
Steph Curry is also set to have a show premiere on the network in early 2023 called Black Pop, which will "explore how Black Americans have impacted and shaped culture through film, television, music, and comedy."
Already apart of the E! Family, Laverne Cox will also take the center stage outside of her red carpet duties with an intimate interview special called If We're Being Honest with Laverne Cox, which spotlights trendsetters, tastemakers, and those making an impact in the Hollywood community coming to the network later this year.
---