Usher & Roberta Flack to Receive Honorary Doctorate From Berklee College
The artists will be celebrated for their contributions to music.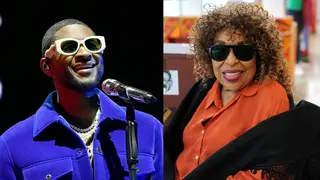 Renowned musicians Usher and Roberta Flack are set to be awarded honorary Doctor of Music degrees at the forthcoming commencement ceremony of the prestigious Berklee College of Music, according to the institution's officials.
Scheduled for May 13 at 10 a.m., the commencement ceremony will take place at Boston University's Agganis Arena, as announced by the college. In addition to receiving their honorary degrees, both Usher and Flack will have the privilege of addressing the graduating class. This momentous occasion not only celebrates their achievements but also allows these legendary artists to share their wisdom and inspire the next generation of talented musicians.
"This year's honorary doctorate recipients will be celebrated and recognized for their invaluable contributions to the worlds of music and philanthropy," the college said in a statement.
Usher, a highly acclaimed artist and eight-time Grammy Award winner boasts an impressive record of selling over 23 million albums in the U.S. and a staggering 80 million copies worldwide. His remarkable journey began in 2000 when he first topped the Billboard Top 100 chart, a feat he would achieve with four consecutive albums. Among his many awards, Usher has secured victories in various categories, such as Best Male R&B Vocal Performance, Best R&B Album, and Best Contemporary R&B Album. With an extensive discography that includes iconic albums like "Confessions," "My Way," "8701," and "Here I Stand," Usher has firmly established his legacy as a true luminary in the world of music.
Flack has enjoyed a stellar career in the music industry, earning four Grammy awards, as well as the esteemed Lifetime Achievement Award in 2020. With her unique blend of jazz and soul, Flack has captured the hearts of audiences worldwide. The college highlights her chart-topping hits such as "Feel Like Makin' Love" and "Tonight I Celebrate My Love," which are symbolic of her enduring influence and exceptional talent. As a trailblazer in her genre, Flack continues to be a cherished inspiration for countless musicians and music lovers alike.