Usher Talks 2023 'My Way: The Las Vegas Residency' And Reveals If He'd Perform At A Super Bowl Halftime Show If Offered
The legendary singer also reflects on his sophomore album 'My Way', which celebrated its 25th-anniversary last year.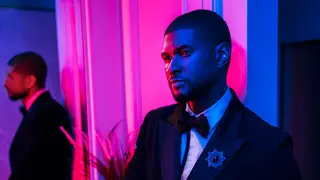 It's hard to believe that Usher is only 44 years old, considering how long he's been working in the music industry (almost 30 years, if you count his self-titled debut album from 1994 as the starting point for a general timeline). It's possible that the youthful spirit that he's always incorporated into his music is what's keeping him young on the inside and out. If not, it could be the stamina that he's gained over the years while performing in music videos and for arenas that have allowed him to keep going.
Usher's career began when he was discovered at the age of 14 by music executive L.A. Reid. He signed a record deal with LaFace Records and released his self-titled debut album in 1994. The album showcased Usher's impressive vocal range and his ability to blend R&B and pop music in a way that appealed to a wide audience.
However, it was Usher's second album, My Way, that launched him into superstardom. The album debuted at number 15 on the Billboard 200 chart and eventually reached multi-platinum status, thanks in part to its lead single "Nice & Slow," which peaked at number one on the Billboard Hot 100. The album also featured the chart-topping hits "You Make Me Wanna" and "My Way," which solidified Usher's status as one of the most popular R&B artists of the late 1990s.
Throughout the 2000s, Usher continued to dominate the music industry with a string of successful albums and hit singles. His 2004 album, Confessions, was a critical and commercial success, debuting at number one on the Billboard 200 and selling over 20 million copies worldwide. The album's lead single, "Yeah!" featuring Lil Jon and Ludacris, became one of the biggest songs of the decade and won a Grammy Award for "Best Rap/Song Collaboration".
Over the last two years, Usher's work ethic is evident in the multiple residencies he's done in Las Vegas. After performing 20 shows in the summer of 2021 at the Colosseum at Caesars Palace, the superstar R&B singer moved his residency south on the Strip to Dolby Live at Park MGM for a second stint, which lasted until late October. Now, in 2023, Usher is picking up once again at Dolby Live in celebration of the 25th anniversary of his sophomore and landmark LP My Way.
Beginning this Friday (February 24), the Grammy-winning artist will perform for his Usher My Way: The Las Vegas Residency, featuring groupings of week-long stints of shows through the months of March, April, June, and July, before concluding with nine dates in October. For Usher's fans, it's an opportunity to see him take the stage in a way he hasn't previously been able to during tours, nationally and worldwide.
BET spoke with Usher this week about his Las Vegas residency in 2023, including all that goes into each show, incorporating audience interaction within the 5,200-seat theater, and the hundreds of people that have a hand in making it all happen. We also asked him to reflect on My Way all these years later and whether he'd take to music's ultimate stage, the Super Bowl halftime show, if offered.
BET: The dates just dropped for the 2023 edition of the My Way Las Vegas Residency. What are you expecting for it this time around and how excited are you for fans to experience this?
Usher: I think I never said this – because every performance that I've ever had is about being uniquely itself – but I think consistency is the one thing that I would hope for. And that's a luxury of having a residency – that I can now become a little bit more consistent in my flow of how I manage my life. I love it. I love being able to be in one place for a specific amount of time, being able to build in Las Vegas. I think that there are so many incredible things that are happening in Las Vegas, rather, I am a part of them, or rather I'm a part of just instigating them. I feel an energy coming to the city that hasn't been there before, or maybe it was there at some point, but now it's coming back in a major way.
BET: The dates span from this Friday (February 24) all the way into July. What should people expect in a general sense when they come to one of these experiences?
Usher: A magnificent show that gives you something to remember – whether it was a hit record or something that entertains you, made you feel engaged, made you feel something, gave you a moment that you will never forget. When I talk to fans, [they] say 'I remember this one tour, it was the Truth Tour, it was the Evolution 8701 Tour, and I never forgot that one experience.' That's because of the time and passion I put into the art. The art is the show, the music is the offering, right? Because everybody's going to interpret what I'm saying maybe a different way because of their experience or what they feel. But the art of it and the time where I get a chance to give something to people that they'll remember forever is in that moment. So that's what I love about performing live for my fans.
The one thing that I'm hoping that they take away when they leave Las Vegas, as I mentioned earlier – the fact that historically shows like what I'm putting on in Vegas once were a major thing when you think about performers like Sammy Davis Jr. or Lena Horne or any of the performers that came in that time back when they couldn't even walk through the casinos that they were performing in because of the segregation law. But now seeing this level of entertainment being put on a pedestal, and not just a residency that's a nightclub, but actually something of expectation, something of value, a sophisticated experience that leaves you [thinking like] 'Man, that was amazing, those performers, not just that singer singing, the things that they did, the dynamic of the entire night, seeing and feeling as though you were immersed in what the person made you feel that was happening on stage. That's the value of what I'm getting from Las Vegas and what I think I'm offering to my fans.
BET: The production for this also looks massive and took a lot of work for months even before you hit the stage. What are some of the things that go into it because there are so many people involved? Take us behind the scene a little…
Usher: [I'm] working with the musical director to create the list of songs that will be performed is the first thing, working with the production team that has to then determine over this series of a few months what thing can we create that'll be dynamic, that will have enough space for it to feel live and in the moment. But then also to curate it where I'm thinking about the show – not just because I'm looking at Usher, but I'm looking at the lights, I'm looking at the wardrobe, I'm looking at the dancers, I'm looking at the one-off performer that came on stage, a pole dancer that came on stage, or something that happened over the audience, or a very specific thing that was curated in the screen content. All of those things are what's happening behind the curtain.
Then [there's] the selection of those people who have to carry that out on stage with me because it's not just me dancing up there. I have a full cast of people who are kind of creating this world, this kind of hero's journey that I'm going through and finding love and finding myself and coping with what decisions I've made in my life, rather it was in a relationship and having a baby with another woman or really coping with heart ache and heartburn, like 'Burn.'
The technical side of utilizing the screen content and also to loop live performers moving and dancing while I'm singing [all] climax [jointly]. The now-viral moment that has become this craze that is Confessions [mimics NPR Tiny Desk performance meme]. all blending into this experience with a cast of people who are helping to orchestrate it, an entire production team. There are hundreds of people who are behind the scenes working and what you see is a direct one-on-one experience that I'm giving my audience. There is a huge effort and task behind the creation of that.
BET: You've previously noted that you've been able to do some things with these residencies that you haven't in previous concerts or tours – skating being one of them. How have you been able to step out of the box a little bit for these shows in a manner you haven't been able to do before?
Usher: It's given me the luxury to play, the luxury to do some of the things that I've always enjoyed, and haven't been able to articulate through video. I love Gene Kelly, and I love how theatrical he was and how masculine and sophisticated he was as a dancer – how he would manage to mix genres of dance and creativity together by way of these theatrical classic sets. And skating was a part of that. On the other side, I love to skate, and have always skated in Tennessee when I was a kid or Atlanta when I finally arrived here. That is a cultural thing. It may not necessarily be highlighted.
I think skating became more relevant in the last two years than it's been in a very long time. And that's just part of the process of life, things are cyclical in that way where they come back and they have a resurgence. I opened up a skating rink with Liberty Ross in New York City, and just recently opened up a skating rink in London. So skating is a significant part of my branding. But it also too is something that creatively I've always been watching and wanted to attempt – and Las Vegas gave me enough space on stage to imagine the show and then create these different levels of creativity and memorable moments.
BET: You've stated many times that you're a student of performers from the '70s and '80s despite not coming up in that era professionally. And you can see it in your performances – the high energy, dancing, all types of movement… How do you collect the energy to be able to pull it all off night after night?
Usher: I'm one of the Last of the Mohicans, man. Even though I wasn't rocking with Prince and Sammy Davis, Jr. and Michael [Jackson], I came from the same school of thought – where I worked and I really built up the stamina to be able to do that. And [creating] the expectation of what being an entertainer is considered. You can't consider yourself an entertainer unless you sing and dance. And yes, your mic has to be on. You have to literally sing into your mic and you have to still perform and give energy and presence and be mindful of what you're wearing and think about lighting techniques and all of the things like that. That only accelerates what your song is about – whether it's storytelling through using people or dancers and performers or you just standing at a microphone – the levels. That's what I got out of watching those performers and theatrical moments through the '50s.
Maybe something happened between this theater world and entertainment, and the segue between the two is part of the reason that we love Michael Jackson. And we love Gene Kelly, we love Fred Astaire – those early performers. The fact that they were doing these really cool things because that's what you had to be in order to be considered an ultimate entertainer. You had to be able to act, you had to be able to dance, sing and compose incredible things. I'm carrying that torch, man. I'm happy that I had the space and the audience to pay attention to it.
BET: You mentioned consistency. How does being in Las Vegas in a stable environment for a long period of time allow you to spend time with your four kids and family as opposed to a tour?
Usher: Yeah. I think it's a new style. Matter of fact, I think it's a new thing for me, man. I think that residency has worked better for me than anything. Don't get me wrong, I love touring, but maybe in the future, maybe what I'll do, and I don't want to get ahead of myself in saying this, but if I'm able to spend stints of time in places; one, I get a chance to stabilize my life; two I have a chance to really stay connected to my children; and three, most importantly, I get a chance to enjoy being there.
Let's say I decide to go into a foreign country and I got to tour all around, right? One, I've got soundcheck and I got radio or these obligations for interviews, so I don't get a chance to really enjoy the place that I'm at. But to be able to go places and sit down, set up your situation, and spend a nice amount of time in residency there – that to me is working more for me. It's making me a better parent. It's making me a better man. It's making me a better businessman, and allows me to really enjoy [it]. I've been running around forever. I'm 44 years old, man. I've been running like a crazy man for my entire life. I finally got a chance to just relax and enjoy, and catch my breath. For me to be satisfied. I'm not trying to prove anything. I'm just doing what I love and I'm doing it with the songs that you love.
BET: 44 is crazy if you think about it because for how long you've been in this business that seems very young. Speaking of viral moments, though – you touched on the NPR Tiny Desk Concert meme everyone's using now – but there's been a debate on social media over you being a strong candidate to perform solo at a Super Bowl halftime show in the future. Is that something you'd consider if given the opportunity?
BET: That simple… okay [laughs].
Usher: I mean it goes without saying. It's a major moment for any performer to be welcomed to that. There's people that have some opinion about it, but yeah, I would love it.
BET: I guess finally, this whole residency and the previous two you've done are in-part a celebration of the 25th anniversary of your 1997 album My Way. Does it feel like it's been that long and what are some of your best memories of creating it?
Usher: I think at 10-year it kind of blurs and blends together. The one thing I think I appreciate more than anything about that album was that was the beginning of my artistry and everything that went into understanding what it was to be an artist. And I learned a lot. I learned commitment. I learned branding. I learned that it's not just about being the best singer.
It's also about being the best articulator, do you create songs that make people feel connected to you and connected to each other? My Way, it was my first time stepping out and with confidence saying, I just want to do things the way I see them. I want to offer what I feel, right or wrong. I want to have fun. I'm doing this because I want to try, I want to be different. I'm inspired by these things and how it made me want to do that.
Purchase tickets to the 2023 edition of Usher My Way: The Las Vegas Residency here.