Kierra Sheard Announces Pregnancy with First Child
The news comes after Sheard experienced two miscarriages.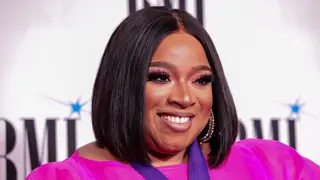 Gospel star Kierra "KiKi" Sheard-Kelly shared that she and her husband, Jordan Kelly, are expecting a baby. 
The 35-year-old Grammy Award-nominated singer and actress had previously disclosed that she suffered two miscarriages which, she says, took her "near death's doors." 
In a statement with People Magazine, Sheard-Kelly said, "I am so excited and blessed to have this opportunity to carry, my prayer, and watch our baby grow. I'm most excited about raising a game changer, loving someone so deep, and having that same impact my mother had on me. I think I'll be raising one of my best friends!"
Despite her previous challenges, Sheard-Kelly said that she leaned on her faith. "God still showed me that He's in charge, and to keep believing. I've been fearful and have worried, but God has sent me constant reminders and ways of affirmation. My husband's faith and declarations have stood in place of my lack many times," she adds.
"He has encouraged me to know that I'm still loved, had we had this moment or not. Getting on one accord helps create our love child, and is growing us closer," she continues. "I've downloaded faith-based books, prayed every morning over my womb and baby, and surrounded myself with a very supportive and prayerful community."
"As a result, we are here seeing our prayers answered. I've felt the presence of God in my womb and it's been one of the most promising moments I've had in my life." 
Sheard-Kelly and Kelly, 32, have been married since December 2020. In February, Sheard paid tribute to her husband with a thoughtful Valentine's Day message, writing, "Mr. Kelly, wit'yo fiiiine self, I love you so much." She went on to reflect on their marriage, noting "Thank you for loving me like no other man has. You've restored me in so many ways and I'm excited to see what we'll grow into."
In addition to her growing family, Sheard is also marking a milestone with her second book, The Vibes You Feel. According to its description, the inspiring book for teens and young women explores what it means to listen to God's voice, better understand the "vibes" and intuition the Spirit uses as guidance, and live a life that proclaims your heavenly truth.