Bush Foundation To Give Away $50M To Slave Descendants In Minnesota And Dakotas
The goal is to help build Black wealth, reverse systemic injustices and positively impact communities.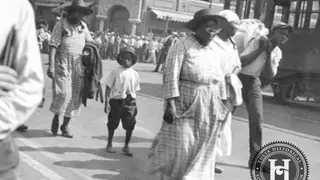 In an effort to help stem the tide of persistent injustices from slavery, Jim Crow laws, red-lining in housing and police brutality, the Bush Foundation plans to distribute $50 million to the descendants of slaves living in Minnesota and the Dakotas over eight years.
The foundation and Nexus Community Partners, the St. Paul group administering the program, say the Open Road Fund will distribute grants of up to $50,000 to 800 descendants of slavery by 2031, according to the Star Tribune.  At least half of the grants are expected to land in Minnesota, which has a larger Black population than either of the Dakotas, the report says.
On Juneteenth, the federal holiday that commemorates the end of slavery in the United States, Nexus will begin taking grant applications in a program that is not a reparations effort because it is not extensive enough, officials said.
"When we have access to an abundance of resources, we can cultivate healing, safety, care and liberation on our own terms," said Nexus CEO Repa Mekha.
The program is believed to be the first of its kind in Minnesota and one of the first large-scale programs nationwide that ties grants to the descendants of slavery, the  report says.
The program is part of a growing effort in the U.S. to help address systemic racism. Georgetown University in Washington, D.C., for example, is issuing scholarships to modern-day descendants of the 272 slaves the school sold in 1838, the report says. The university also has proposed spending $400,000 a year on school, health and other community efforts to atone for its slave history.
Lawmakers in California created a task force calling for apologies and financial reparations to descendants of slavery who suffered land theft and other injustices, which would amount to billions of dollars, the report says.
The Bush-Nexus program, however, would be the first in the Midwest to issue money to the descendants of slaves, said Matthew Ramadan, president of the New Africa Community Development Corp.
Applications are due July 28.